It's always nice when Breezy Willow Farm starts up their CSA again in the spring. I give up a lot of vegetable autonomy to the CSA haul, and I actually find it annoying to have to shop for vegetables. It's also nice to see the Caulders and the work-share helpers again; it's like a big family out there.
The first week brought a pound of kale, last year's apples from cold storage (York and Red Delicious), beets, carrots, sweet potatoes, and mushrooms. I was also glad to see the oranges and grapefruit from Florida; after a couple years of the spring CSA, citrus now reminds me of spring. We also got the usual eggs and bread (Great Harvest rye).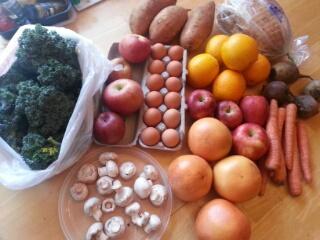 My only problem with the pickup was my timing. I usually go after I get off work, but I got out early and decided to hit the CSA during opening hour. Boy was that a mistake. The place was so packed that they were shuffling people around in the driveway and the parking lot, and there was mud everywhere. Also, you had to stand in line to get into the building, and although the sky was blue outside, the wind was pretty stiff and cold. Casey said that the early rush happens every year, and that afterwards people tend to even out their arrival times. I'll have to remember this for next year. I'm glad the CSA is doing well, but next time I'm definitely waiting until my usual hour before I show up.