The spring CSA is only 12 weeks long, and then (if memory serves) we'll get a week off before the summer CSA starts up. So there's just one more week left. At least the farmer's markets are open to tide us over.
Week 11: Bean sprouts, green beans, Brussels sprouts, cremini mushrooms, romaine lettuce, sweet potatoes, beets, dinosaur kale, eggs, and bread (Great Harvest cinnamon chip). Apparently dinosaur kale is so called because the pebbly texture on its leaves is kind of like dinosaur skin. It does give off a sort of prehistoric vibe.
I'm determined to eat the bean sprouts tonight; the last couple of times, I let them sit too long and they turned brown and sad. The romaine will probably get eaten next; a nice crisp salad is always good on warm days like these. Everything else is a good hearty vegetable that can sit in the fridge drawers for a couple of days without too much damage.
Last week, week 10: spinach, asparagus, spring mix, rainbow chard, zucchini, Breezy Willow eggs, radishes, spring onions, red potatoes, and bread (Great Harvest sourdough). I think we did a good job eating all of these except the poor chard.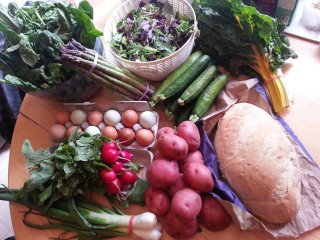 We sliced and baked the zucchini in the toaster oven, the asparagus got sauteed with some onion, the radishes were pickled (K is delighted with the result, but I am not quite convinced), the spinach and mushrooms went into an omelet (the kid likes vegetables when covered with egg and cheese) and the poor chard is rehydrating in the fridge. I pulled it out to cook a couple days ago and the stems were all floppy. I'm letting them drink up some water; hopefully they'll get a little more firm. Still nice and colorful, though.
As for the spring greens, we had a dinner salad that very night. My favorite, with an over-easy egg on top, and some sliced sausage and grated Parmesan to add a little bit of luxury.
The past couple of times K's fired up the grill, I've had him throw some sausages on as well. Protein is a time-consuming item to prepare, and I like being able to just whip up some veggies with some kind of carb and then serve it up with sliced sausage. Gets dinner on the table faster in the evenings, and the fat-and-flavor hit of the sausage means you don't need to eat very much to feel full.