K has a long history with Frisco Burrito Grille Taphouse and Brewery. He remembers when they were just a burrito counter. Then they expanded into the space next door, putting in a bar full of microbrews and a lot of tables for patrons, and we started going there regularly. And now that they've established themselves in their newest digs just down the street, we drop by frequently for a good meal and a tasty brew.
There are drawbacks, though. The parking situation is atrocious; the side lot is far too small and it fills up quickly, so visitors at peak hours are forced to find parking on side streets and in nearby lots. Also, you used to be able to get a table almost anywhere and keep an eye on the game; now, the TVs are centralized at the bar, so you might not get a good view from your table. Speaking of the television screens, those are also where Frisco keeps their massive microbrew list — and although the list of 50 taps fills two long screens, it's hard to read from the dining area.
(They have a solution for the smartphone-enabled, though: an electronic beer list.)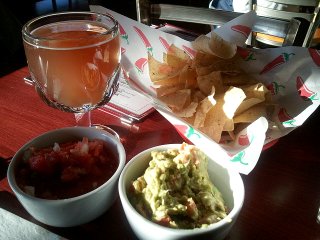 (Hitachino Nest Red Rice Ale; chips, salsa, and guacamole)
The menu has changed, too. They've added corn dogs (good) and beer-battered catfish (not so good), among other things. Also, Frisco's pizza oven is up and running. We tried the margherita pizza and it was delicious, with fresh tomato and big crispy leaves of basil. The chorizo pizza was good as well, though I hear it's even more improved by adding bacon. (Well, what isn't?) Two pizzas turned out to be not quite enough for three people, but they're fun to share. Someday I'll get around to trying their "taphouse steak and cheese" pizza, which apparently features bbq steak and avocado.
Returning visitors might notice that the enchiladas are no longer on the menu, but the kitchen will still make one for you if you ask — a fortunate thing, since their enchiladas are delicious. I recommend getting them with chorizo.
Anyway, we remain big fans of Frisco, no matter what they're calling themselves, and we'll definitely keep going for the food and the brews. I'll just have to remember to get there early if I want a parking spot.