Tous les Jours is a beautiful new Korean bakery lighting up Route 40. I've been there several times now, because I love it, but it does have two negatives. One is that they are so popular that it's sometimes hard to find a place to sit, and as for the other, well, I'll get to it later.
Tous les Jours is apparently an outpost of a well-established chain, a bakery/coffeehouse hybrid like Shilla, Bon Appetit, etc. The bakery area is very approachable, always very well-stocked with (delicious!) tasting samples; the drinks I've had so far have been delightful, although the ordering process has been somewhat complicated by the fact that I seem to get a newbie cashier almost every single time.
The first I heard of them was when K came back from running errands, toting a big bag of bakery goods. I was impressed with how good the food looked. I was even more impressed by how good it tasted.
Living close to Rt 40 as we do, I've tried a lot of Korean bakery items, and I think Tous les Jours is my favorite bakery so far. I particularly loved the one bun that was completely round, with a crispy shell and a chewy filling; it reminded me of dim sum sesame balls, but bigger (and without sesame). The croquettes were warm and toasty when K brought them back, too, because hot items are kept inside a little warmer oven. Very thoughtful.
They also bake their bread fresh. I've been there first thing in the morning (they open at 8, which is not the friendliest time for commuters), and saw several trays of bakery items heading out of the kitchen; the place smelled heavenly.
The picture below is from an evening when we headed over for dessert, and enjoyed a mango bubble tea (K) and a mocha (me). K chose an item that we both agreed was pretty much a twisty, bent churro. I picked my pale green "melon" bun in an effort to try new things, and because I loved how it looked: like it was baring its teeth at me. Its tasty, pointy, cute little strawberry teeth. It was soft in texture, with an almost cream-cheese-like quality, and an interesting light tangy taste from the melon.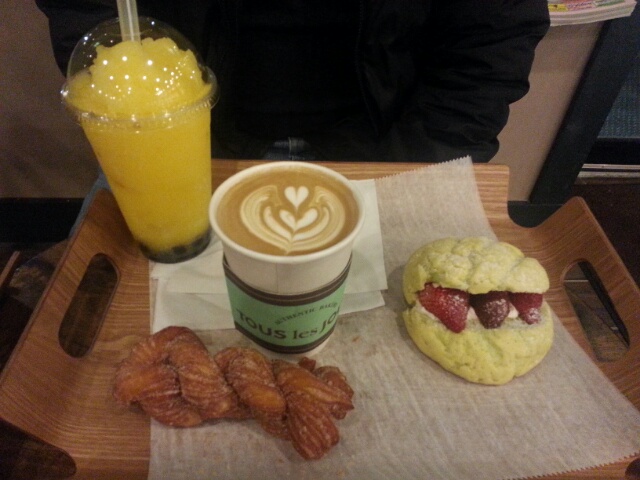 Besides being beautiful, my mocha was also quite satisfying, with good flavors of coffee and chocolate. K's bubble tea was nothing to write home about, unfortunately; the flavor was good, but the tea shares the same weakness as most of the bubble teas I've had at other local establishments. The tapioca pearls were inconsistent in texture, some hard and pebbly, some soft and almost too goopy: the mark of bubbles that are not fresh. You want bubbles that are chewy but not hard, sweet but not sugary. These felt like they had been improperly prepared, or were sitting around too long. Anyway. Not going to knock Tous les Jours on their bubble tea, since apparently my standards are higher than what's available anywhere in the area, but you can be sure I'll be sticking with the non-bubble drinks in the future.
(Sidebar: good bubble tea is not hard, people; if you want really decent bubble tea, go to Rockville. Check out Jumbo Jumbo Cafe, and while you're there, get yourself an order of the fried chicken appetizer with spiced salt and basil; trust me on this, it's an epiphany. Bubble Tea Cafe on Rollins is also good. Or Ten Ren in Wintergreen Plaza. I've also had perfectly decent bubble tea from Rockville joints that aren't bubble-tea-centric, like from the ramen joint Ki No Spoon, or from Maria's Bakery, etc, etc… anyway, HoCo really needs to up its bubble tea game. I've tried the bubble teas at Honey Pig, La Boulangerie, Bon Appetit, and even Ichiban Cafe down in Columbia, and they all have the same goopy/pebbly tapioca ball issue; if you know where to find a good one in the area, definitely let me know.)
I mentioned at the beginning of this post that I had a second negative thing to say about Tous les Jours. I'll present it verbatim:
"I have good news and bad news," K said, returning to our table. "Which do you want first?"
"The bad news," I said, because I like things to end on a high note.
"OK. The bathroom had one of those checklist cleaning lists posted, right, when someone initials the time that they last cleaned it? Well, it's set up for every three hours, and it was last cleaned at 5pm. That means no one cleaned it at 8pm."
"That's not… so bad," I said. It was about 10pm.
"And the other bad news is that the date on the cleaning schedule was March 26th."
"Oh," I said. It was March 28th. "So, um, what's the good news?"
"There's hand sanitizer outside," K said brightly, "for when you leave the bathroom that hasn't been cleaned for two days!"
I mean, we ate there anyway. The food and drinks were delicious. But, yeah, bit of a sour note there.
In sum: I know I said some negative things about Tous les Jours, but honestly, I'm actually really in love with the place. The bakery items are all fantastic, the coffee drinks are wonderful, there's plenty of seating and the decor is calm and comfortable. I'd recommend it to anyone.
Tous les Jours is on Rt 40, across from Shilla Bakery, behind Lighthouse Tofu.