Apparently my weekends are busy enough now that I can't seem to make the CSA post right away. Here it is, though, better late than never: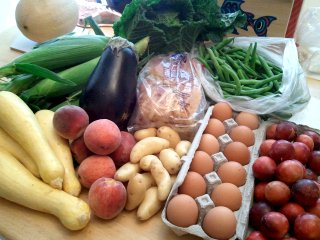 Look at those gorgeous colors. That's six ears of corn, a Savoy cabbage, an eggplant, green beans, yellow summer squash, peaches, fingerling potatoes, eggs, and a whole lot of little bitty plums. For the bread this week I selected Great Harvest's Raisin Cinnamon Chip, which, honestly, I didn't find that good. It's a bit doughy and dry. Still, toasted, it makes an acceptable breakfast. I'll just remember not to get it next time.
Oh, and I paid extra for that cantaloupe lurking back in the corner. It was very tasty when I first cut into it, but when I went to attack the refrigerated portion the next day, it had turned sour on me. Too ripe, I suppose. Oh well.
Alas, I have nothing interesting to say about what I did with last week's vegetables. I have to admit I didn't do much cooking — just a summer squash gratin, creamed corn, and kale chips. Actually, I was busy making desserts. For my sister's bridal shower, I managed:
– blueberry bars
– Russian tea cakes
– dark and white chocolate brownies
– strawberry and rosemary scones
– cranberry cream scones
I love baking, but I don't do it often in the summer, because a) it's just two of us here and we're stuck eating it for a week, and b) the oven makes the house hot. Fortunately, most of the baked goods got eaten and last week was pretty cool. Also, the other girls provided all manner of savory finger foods, tasty salads, and cheese plates. It was a wonderful time. I was full for days.