Yay, Breezy Willow's summer CSA is back! (Though because I've been picking up their spring CSA for months already, it just feels like a continuation.)
This week: spinach, lettuce, beets, sweet potatoes, pattypan squash, cucumbers, white mushrooms, a quart of strawberries, radishes, eggs, and bread (Great Harvest white).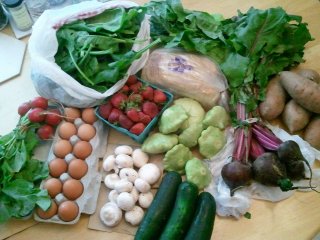 Seeing the pattypan squash always makes me slightly nervous because my skin reacts poorly to something in the squash — the first time I cut some up for cooking (they're great sauteed in butter, with a little salt), my left hand got red and swollen. (My right hand was fine; it was holding the knife.) Now I wear gloves when preparing squash. Fortunately I seem to be able to eat it without any problems.
We didn't cook anything yesterday so most of this food is still sitting in the fridge. I did cut up some strawberries to have with ice cream, though. I've also been nipping a strawberry or two every time I open the fridge. I have a feeling the strawberries won't be around for very much longer.