Week 2 of the summer CSA and the greens are really starting to roll in. We got kale, chard, green leaf lettuce, zucchini, green beans, English peas, red potatoes, blueberries, eggs, and bread (Great Harvest challah).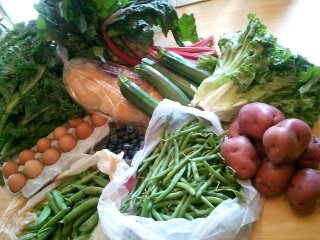 Looks like I've got another night of preparing green things in my future. I knocked out most of the veggies from last week in one evening, and stuck them in the fridge in sealed containers. I used to assemble dinner from raw ingredients, but now that we have the kid at home, the weeknights are a lot busier. I find it easier to consume vegetables on busy weeknights if they're already prepped.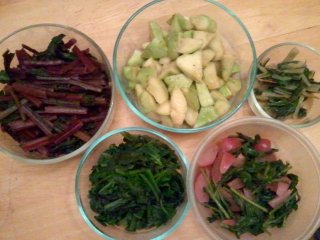 If you don't want to eat spinach raw, it cooks down incredibly easily. Just give the leaves a rough chop, wash them well (CSA spinach is so grimy that it needs about three rinses), and then put them in a pot on medium heat with a little water still clinging to the leaves. Season to taste; I sprinkle with salt, pepper, and garlic powder. Stir occasionally. The leaves will wilt down to about a quarter of their previous volume. I serve it just like that, as a side, but I've also been known to mix it into quiches, omelets, or cheesy bakes.
This time, I prepared pattypan squash by cutting off the stem, chopping the remaining flesh into chunks, and then sauteing them in butter with some salt and pepper, until everything is soft and cooked through. The squash also works well roasted in the oven.
I'm always happy to see beets, because then I get long and luxuriant beet greens. I just cut them up, stems and all. I wash everything in the salad spinner, and then saute the pieces in olive oil with a pat of butter. Season to taste. I prepared the chard in the same way. The chard stems were narrow, so I tossed everything in at once, but if the stems are thicker, I put them in before the leaves so that they get more cooking time.
(I used to wash veggies before I cut them, but then I had wet leaves dripping everywhere. Now I chop before I wash, which is much simpler overall.)
The remaining dish contains radishes and radish greens, braised in butter (see this post for the recipe link). I also made Mom's cucumber salad with the cucumbers, but it's not pictured as it was chilling in the fridge at the time.
If the harvest is good, belonging to a CSA means that you're drowning in a bounty of vegetation. However, if you don't eat it, it goes to waste. In the past, I've pulled wilted brown vegetation out of the produce drawer, and tossed it sadly in the garbage. By doing my prep work early, I hope not to waste a single item. So far, so good!
(Yes, it's only the second week… but it's a good beginning.)