I've been fortunate enough to escape the worst of this heat wave; my house didn't lose power in the latest storm, and my workplace is heavily air-conditioned. But our hardworking farmers have been toiling away in the heat. Here's our haul from weeks 4 and 5.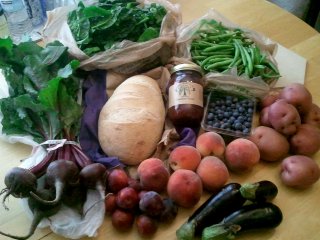 Week 4: beets, spinach, green beans, little baby eggplants, plums, peaches, potatoes, blueberries, bread (Great Harvest sourdough), and strawberry butter instead of eggs. The strawberry butter is fantastic, rich and sweet on sliced bread.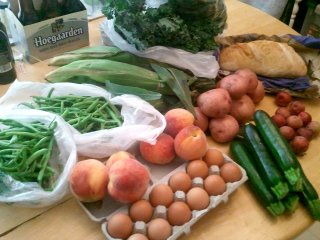 Week 5: more green beans, early corn, kale, peaches, potatoes, zucchini, plums, eggs, and bread (Great Harvest parmesan sourdough).
For the Fourth, we kept it low-key; lit up the grill and blackened some zucchini and corn, along with some tasty steaks from Wagon Wheel Ranch. I love the summertime; I can just send K outside with some raw ingredients, and he brings them back with char and beautiful grill marks.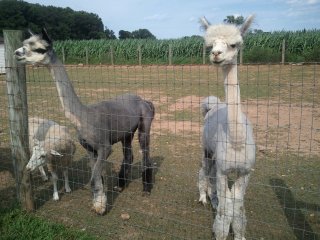 At the farm, the sheared llamas looked like poodles. With the weather we've been having, I bet they were glad to get rid of their wool.
Also, this pile of plums at the CSA was beautiful. I love how they're frosted with little drops of condensation, after being brought out into the heat.
Things are supposed to get a little cooler after the weekend. Maybe then I'll be brave enough to turn on the oven again.