week 3 of the spring CSA: gold potatoes, carrots, ruby red grapefruit (3), minneolas (6), spinach, green beans, bean sprouts, mushrooms (in the brown paper bag), eggs, and bread (Breadery cinnamon raisin walnut).
Already cooked (though not yet eaten): all of it! This past Saturday I decided that I was sick of all the uncooked produce in the refrigerator, and in a frenzy of industry, I stirfried the bean sprouts, wilted the spinach, and sauteed the mushrooms, wiping out the Dutch oven between batches (fewer dishes). The carrots and potatoes went into K's slow-cooker chicken curry, and the eggs into a big breakfast scramble with some shredded cheese and leftover barbecue meat. The fridge is now full of easily microwaveable side dishes, instead of produce that demands cleaning and chopping before it can be consumed. In a household with two working parents and kids that need to be fed immediately after coming home in the evenings, this sort of prep is key to retaining sanity.
I am a little disappointed with the bread, though; it crumbled a bit too easily and fell into pieces in the toaster oven. Too dry, I think, even though we carefully kept it twist-tied in its paper bag. Guess I'll avoid it the next time around.
The bean sprouts were not clearly not a hit with the CSA crowd: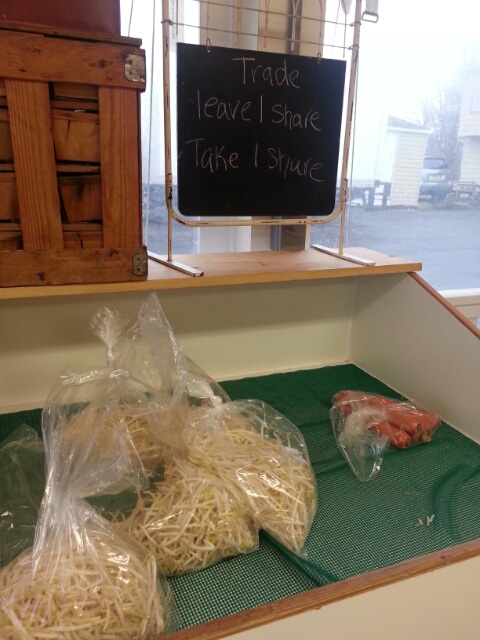 The major pitfall of the bean sprouts is that they go bad really quickly; turn your back for a few days and they've gone all brown and slimy, and before you know it you're throwing away food and feeling horrible about it. Just wash them and eat them raw as a snack or in salads, or stirfry them and eat them alongside, well, practically anything. Their taste is clean, bland, and inoffensive; mix them into your cooking and I guarantee you'll barely notice their presence.
(…unless you're a three-year-old. Little Prince has x-ray vision and, if he's in a mood, he'll object to even the smallest shred of vegetation in his meals. Except, oddly, broccoli.)