Guys, guys! The trees outside are all beautiful colors, the weather is incredibly mild, the fruits of the harvest are rolling in. Let's just ignore the fact that I haven't posted in, um, apparently ten weeks? Instead, let's just admire last week's beautiful pickup from Breezy Willow:
That's an absolutely enormous cauliflower, a pound of kale, brussels sprouts, a spaghetti squash, white mushrooms, red-skinned potatoes, two kinds of apples (Golden Delicious and Stayman, I think), and the usual eggs and bread (Breadery ciabatta).
I'm eating one of the Golden Delicious apples as I type and although it's a tad mealy, the flavor is so sweet and refreshing, I still love it.
Let's also check out this gigantic sweet potato that Casey brought in from the field (and apparently decorated).
Yes, it's as big as a loaf of bread. Crazy, huh?
The Little Princess turned one this past weekend, which means that K and I have been able to keep two kids alive simultaneously for an entire year. We threw a party to celebrate, with plentiful food. We stuffed three pumpkins (bacon & cheese, chard & cheese, wild rice & mushroom) and I made a cake, horse-shaped for my little Year of the Horse girl.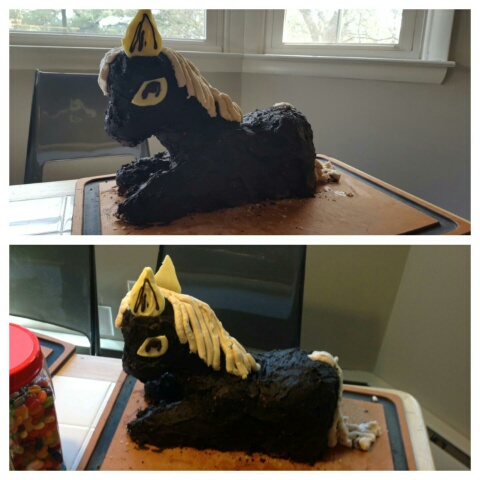 Eyes and ears are made of white chocolate, with dark chocolate scribbled on top to provide details. I'm pretty proud of the cake, even though structural instabilities meant that the head fell off halfway through the party. It's okay; it was all edible, so we just gave the head to the Little Princess to eat. And that dark chocolate buttercream was darn tasty, if I do say so myself.
And now, of course, post-Halloween, the house is full of candy, which I'm using to bribe my son to finish his dinner. Whatever works, right?
Happy fall, everybody! It's my favorite time of year.
Easiest Dark Chocolate Buttercream
Food processor buttercream is my new favorite thing. Forget separating egg whites; forget running the stand mixer over and over again to beat in sugar in batches. Just dump everything into the food processor and let it whiz until buttercream miraculously appears. For an adult note to the flavor, add a pinch of sea salt.
To get the contrasting color, you can make a non-chocolate batch by omitting the cocoa powder and 1/2 stick of butter.
This makes enough frosting to cover a horse-shaped cake 7″ long and 2-4 layers tall from back to front, as well as two dozen cupcakes, so it's a LOT of frosting. Adapted from smitten kitchen.
12 Tbsp Hershey's Special Dark cocoa powder (I'm sure you can use regular, but then you won't end up with Dark Chocolate buttercream)
1 cup + 4 Tbsp (2 1/2 sticks) unsalted butter, softened
3 3/4 cups powdered (confectioner's) sugar
4 tablespoons half-and-half or whole milk
2 tsp vanilla
pinch of sea salt (optional)
Dump everything in the food processor, cover it up, and start spinning it. I like to pulse it a few times to get everything mixed up before letting the processor really rip. You'll have a beautiful thick buttercream in no time at all.