Every fall is always filled with mixed emotions for me. I love fall — the slight chill in the air, the crunchy leaves, pumpkins and gingerbread and apple cider — but on the other hand, the farms are shutting down. Next week will be the last week of the CSA, and the last week of the HoCo farmers' markets. I'll have to actually buy my produce from a grocery store again, from cashiers who may not be able to identify the items on sight.
You take a lot for granted when shopping at a farmer's market. When you pick up an item, you can ask: is this eaten cooked or raw? Do you have any tricks for preserving it? How do you prepare it? And not only is the farmer happy to talk with you (assuming the stall isn't slammed with customers), but you'll soon have a dialogue going with the other shoppers, who are also happy to share their experiences, recipes, and recommendations. The community feeling is just incredible, and not something you generally get at your local grocery store.
(Not to slam Giant, Safeway, or Harris Teeter. I patronize them too, and I do appreciate their all-hours convenience and their endless rows of clean, brightly-lit produce. But it's not the same as the love I have for the farmer's market, where I may not quite find what I was looking for, but I come away with stuff that I'm excited about.)
ANYWAY. The penultimate week of the CSA brought us a pound of spinach, 3 pounds of white potatoes, a pound of brussels sprouts, a spaghetti squash, five large rainbow carrots, another enormous head of cauliflower, eight apples (the all-red ones are Staymans, and the yellow-reds are Jonagolds), and the usual eggs and bread (Great Harvest challah).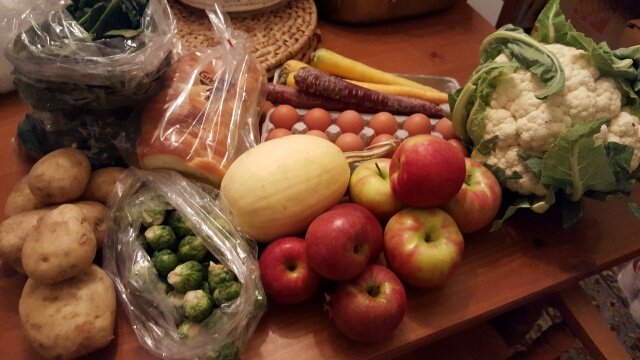 I love brussels sprouts; cut in half and tossed with olive oil and spices, and roasted until the edges caramelize, they turn into crunchy-on-the-outside, tender-on-the-inside little nuggets of awesome, and I consider them the perfect food to nosh on while watching a football game. As a bonus, the Little Prince likes them too. Pick the little ones; they're the sweetest.