When you send a barely-three-year-old and an almost-six-year-old out trick-or-treating, they come back with far more candy than they can or should consume. So there's plenty of extra. As a bonus, they unquestioningly accept your arbitrary rules re: amount of candy they're allowed to eat in any given time period. And their memories honestly aren't that great. (Though the older one is pretty territorial about his peanut M&Ms.)
It's a really great time to be a parent, is all I'm saying.
Candy we don't have this year: Snickers, Milky Ways, Butterfingers, 3 Musketeers. Apparently they don't exist on this side of the border? Candy we do have: Kit Kats, M&Ms, Skittles, Reese's Pieces. So there are plenty of familiar items.
(Edit: I am told that Snickers etc do exist up north, but clearly they are nowhere near as ubiquitous as they were back home.)
We also have Smarties, but they're not the Smarties that I was used to back in the States. Smarties here are kind of like M&Ms, in that they are made of chocolate and covered with a hard candy shell. But the candy shell is thicker and crunchier.
The Smarties that I'm used to, the powdery pastel-colored disc-shaped candies arranged in a tube, go by the name Rockets here.
Yeah, it's confusing to me too.
There are also a bunch of chocolate bars here that aren't carried back home – mostly the Cadbury line (more on that later), but also some Nestle products. There were quite a lot of Aero bars, which is basically chocolate lightened with air bubbles. My favorite Nestle Canada bar, though, is the Coffee Crisp, a wafer filled with coffee flavoring and covered in chocolate. I love it so much that I bought up extra bags of it to take home every time I visited family in Canada. I have long been boggled that there is no mass market coffee flavored chocolate in the States. It's okay though, I'm in Canada now. I have all the Coffee Crisp I want.
(Hilariously, I have my kid so well trained in the concept of "coffee is only for adults" that he immediately handed over his Coffee Crisp bars to me, and told me, in scandalized tones, that people were just giving them out to kids! No one tell him that he's allowed Coffee Crisp. I'm totally fine with him giving all of his to me.)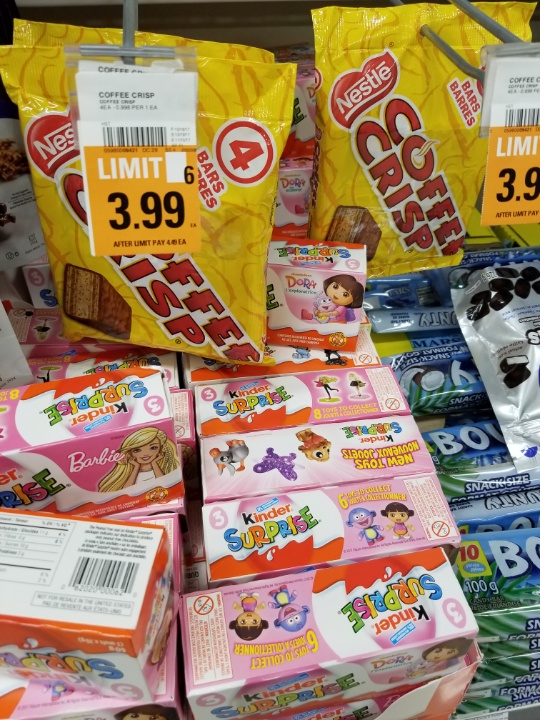 The above picture also displays another chocolate treat not allowed back in the States: the Kinder Egg. I'll probably do a whole separate entry on the Kinder Egg later. The kid did actually score a single Kinder Egg this Halloween, but generally people stuck to handing out fun size bars and candies.
We got plenty of Cadbury chocolates too. Here's the giant Cadbury box I saw in the grocery store.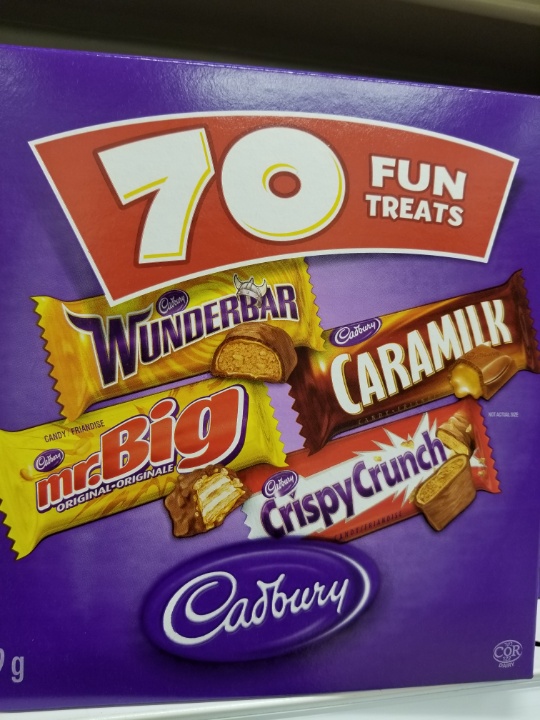 I love the Wunderbar, which has a peanut center and a caramel coating underneath the chocolate. The Mr. Big is also pretty good; it's got a wafer center and a nice crunch from the crispy rice. (I'm also fond of it because one year we came to Canada and saw Alex Ovechkin on the candy wrapper, with the text "Mr. Big Deal." Of course we had to buy a couple of bars, to hand out to fellow Caps fans back home.) The kids didn't get any Caramilk so I can't speak to it – I assume it involves caramel. And the Crispy Crunch was basically a version of the Butterfinger, but flatter (so the butterscotch-to-chocolate ratio was tilted more in favor of chocolate) and a little sweeter.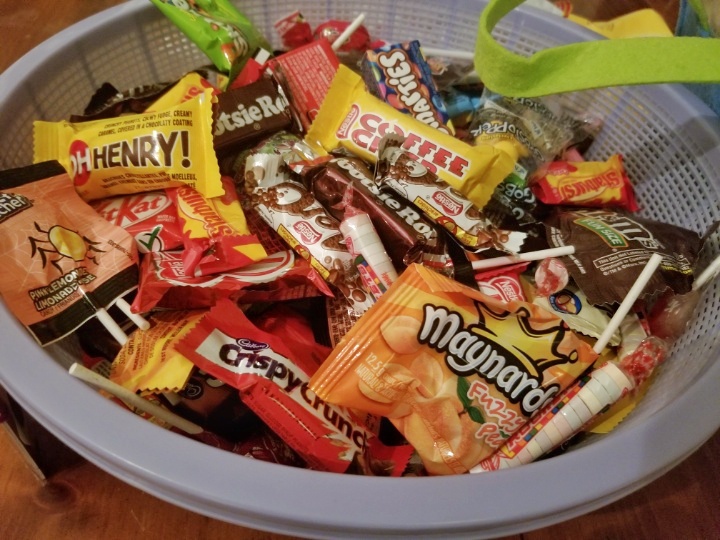 Good job, kids – great haul. Now I just need to figure out how to get rid of all this candy, because no one needs this much refined sugar.
I'll have to harvest all of the Coffee Crisps first, though.