I see my family in California way too infrequently, but there was one time we had an unscheduled layover in LAX one night so of course my uncle, dad, and cousin kidnapped us and took us out to siu yeh (general term for late night eats). When you see family, you feed them; that's the rule. Uncle took us to multiple restaurants, a dizzying night of speeding around the LA highway system punctuated by brief intense bouts of eating. It's all a bit of a blur but I definitely remember my uncle's roaring laugh cutting through the bustling noise: you like nai cha, right? There's nai cha on the menu here as well. Let's get it.
I was so moved that he remembered. We don't see each other much any more and if I'm remembered as the niece who loves milk tea, that's totally fine with me. I think I had probably three cups of really strong milk tea that evening. We had an early flight the next morning after an unexpectedly long day of travel the day before and I needed sleep. Turns out I did not get much sleep. It was totally worth it.
Hong Kong milk tea is a really strong, really smooth black tea that's served with sweetened condensed milk (thick and perfect and luxurious) or, at some restaurants, evaporated milk (add your own sugar to taste). Classically I think pantyhose is supposed to be involved, to get every last bit of tea dust filtered out. I've thought about making it at home but it's one of those things that I associate so strongly with restaurants, with eating out and being cared for, that I've never gotten round to trying it.
I've never lived in a place where HK milk tea is easily available. You generally need a certain critical mass of an ethnic minority before you start getting the really good stuff, and I haven't tended to live in such places, though I have family there. So for me, HK milk tea is a taste that shortcuts my memories straight to family dinners in Vancouver, Toronto, LA, and, yes, Hong Kong; it wraps me in secondhand warmth and love and welcome. Also it tastes AMAZING, tannic and creamy and piping hot.
Back to the point of why I sat down at the keyboard and started typing: My cousin C started working at Gongfu Bao here in the city, so I started moving it up on my list of places to try during lunch breaks. I love bao. But it's a solid half hour walk from work, and it's cold outside, and there are so many restaurants closer by, and work was busy, and…
…and then Gongfu Bao's instagram served up a picture of someone holding up a loaded pantyhose, dripping and stained dark with tea, with text along the lines of "HK Milk Tea and Bao: the perfect pairing!" and the restaurant shot straight to the top of my list. Even though it's January. In Ottawa.
(Quick sidebar: I've had the great good fortune to get to know a lot of wonderful people during my time in Ottawa, and one of those wonderful people is T, whose personality is the sort of crazy awesome that hears "do you want to walk half an hour to have bao for lunch even though it's well below zero outside and the air feels like it's biting your exposed skin?" and comes back with not just "yes" but "HELL YES.")
Gongfu Bao is a small, comfortable little place; you walk right in and you're faced with the menu, and you can see the giant steamers just behind the counter. It's a small, simple menu, which is perfect for quick decision making; T and I ordered our food before we had time to overheat, then stripped out of our heavy coats and sat at one of the tiny tables.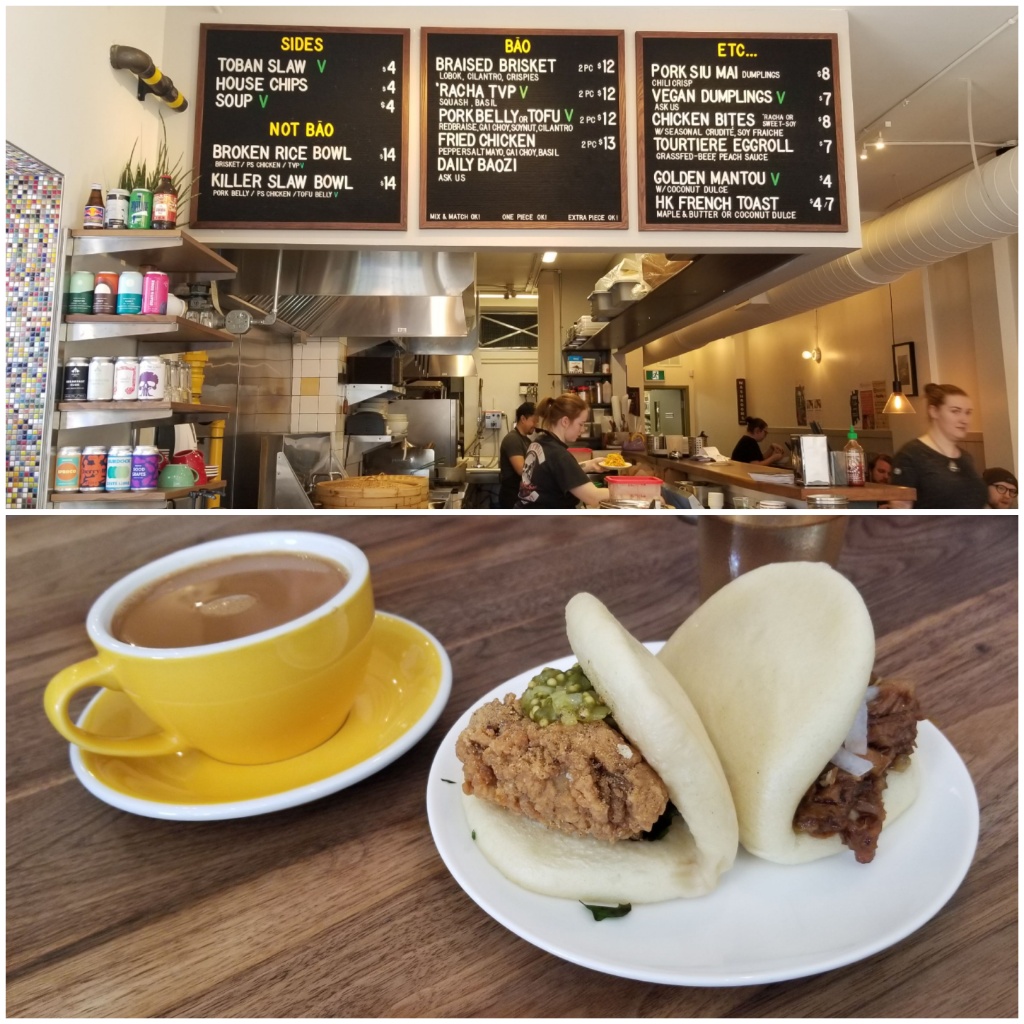 My HK milk tea came to the table in a brightly-coloured mug.
I tried it. It was perfect.
I told T that it was perfect. I told her again.
Then I just closed my eyes and just drank the tea.
Anyway.
I know it's turning out that most of this blog post is about my relationship with milk tea, but this is important to note: the bao at Gongfu was totally worth walking half an hour in the freezing cold. The bao dough was perfectly puffy and light, just a little sweet, as it should be; the meat fillings made for generous mouthfuls, the sauces were intense and flavourful, and the balance of taste and texture (like the thin slices of radish on the brisket) kept it interesting. You can mix and match; I got fried chicken and brisket, and T got fried chicken and pork belly. I got the better deal; turns out the chicken and pork belly had the same seasoning on them.
Surprise of the meal: T ordered the HK French toast to round off our experience. I was kind of neutral about it; I'll happily eat everything but I tend to opt for pancakes or thinner crepes over French toast.
It just goes to show that I shouldn't be in charge of ordering. HK French toast, as presented by Gongfu Bao, is apparently a battered, fried rectangle of fluffy awesomeness. T ordered both the maple butter and the coconut dulce versions, and although the maple one was just fine, the coconut one had us literally scraping the plate trying to get to the last fragments of delicious sauce. It was spectacular. I did not even think of taking a picture. As if the bao weren't good enough. C was cooking behind the counter. We only harassed him a little bit trying to figure out what made the French toast so awesome.
HK milk tea: my good memories just keep piling up around it.