Last week's CSA pickup at the farm really made me appreciate how hard the staff works to get us our vegetables every week. The farmers and the working shares were sweating it out in the heat and humidity, running back and forth to get our orders, carrying crates of vegetables in the hot sun. Farming is hard work, and so is running a CSA. Kudos to the farmers and the working shares.
The share consisted of corn (six ears), suntan peppers, green beans, fingerling potatoes, nectarines, zucchini, peaches, cherry tomatoes, and the usual bread and eggs.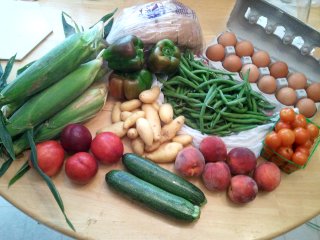 The peppers went into a meatloaf with some onions, the fingerling potatoes are going to get salt roasted, and the zucchini is likely going to join last week's yellow squash in a gratin. Pictures forthcoming, maybe.
In the meantime, even the farm animals are hiding from the heat. It was very quiet at the farm without their usual ruckus.