K and I had a cupcake tree at our wedding reception (featuring Cakelove cupcakes), and ever since then, we've marked our anniversary by eating cupcakes. We got together with some friends at the dim sum happy hour at Red Pearl, and I decided to surprise people with cupcakes from Linda's Bakery. One of our friends also surprised us… with cupcakes from Oh What a Cake! on Dobbin. After saving two for later, that still came to twelve cupcakes for five people. We were undeterred. The cupcake cake-off was on!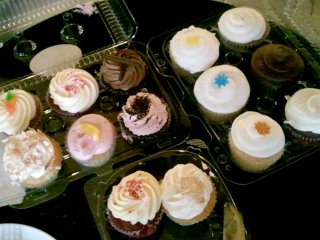 Our selection actually overlapped beautifully, which made us very excited for the cupcake cake-off. From Linda's Bakery (on the left), we have carrot, red velvet, chocolate with chocolate buttercream, coconut, lemon with raspberry buttercream, and chocolate with raspberry buttercream. There's also a little box with another red velvet cupcake and an almond cupcake. (We saved a red velvet and the chocolate/raspberry for later.)
From Oh What a Cake!, we have lemon, coconut, almond, carrot, chocolate, and red velvet.
We painstakingly divided each cupcake into five equal slices (I was getting really good at it by the end) and did a flavor-to-flavor comparison. The cupcakes from Oh What a Cake! were unanimously deemed more fluffy and moist, whereas the crumb of Linda's cupcakes was more on the dry side. (The exception was the carrot cupcakes, which were closer in texture.) More tasters preferred the buttercream of Linda's cupcakes to the flavored icing on the Oh What a Cake! cupcakes, although this was not unanimous. We joked that in an ideal world, most of us would order nude cupcakes from Oh What a Cake!, and then take them over to Linda's to get decorated with buttercream frosting.
The flavors were very good. Both bakers seemed to use real carrot for the carrot cakes, but when it came to the almond and coconut cupcakes, the cupcakes from Linda's had more genuine almond and coconut flavors, whereas the ones from Oh What a Cake! tasted of artificial syrups. Linda's cupcakes were also much more lavishly decorated, whereas Oh What a Cake! went for a very plain look, sometimes adding a single colored candy on top.
In general, the cupcakes were pretty fantastic all around, and we were all very full afterward. It's great to live in a place where fancy, delicious cupcakes are available at a moment's notice.