Rt 40 giveth and Rt 40 taketh away. We drove up to Kolache Kreations this weekend and it was quiet and still, with a CLOSED sign on the door and FOR SALE / FOR RENT signs in the windows, and a note on the door saying a gracious goodbye. I'm very sad to see them go; their delicious kolaches were my go-to dinner plan if I got stuck at work late and needed something quick to feed the family. Hopefully something just as lovely and intimate will take their place.
But on the bright side: BUBBLE TEA. Oh sure, you think you already know the glory of bubble tea. But as I've complained before, there really hasn't been good bubble tea in Ellicott City… until now. Kung Fu Tea, which just so happens to be one of my favorite bbtea spots in Rockville and in Chicago, has opened up a branch in the same shopping center as Honey Pig. And I'm happy to report that their bubble tea is just as good it is in their other locations – nice, consistent texture to the bubbles, and good flavor on the drinks.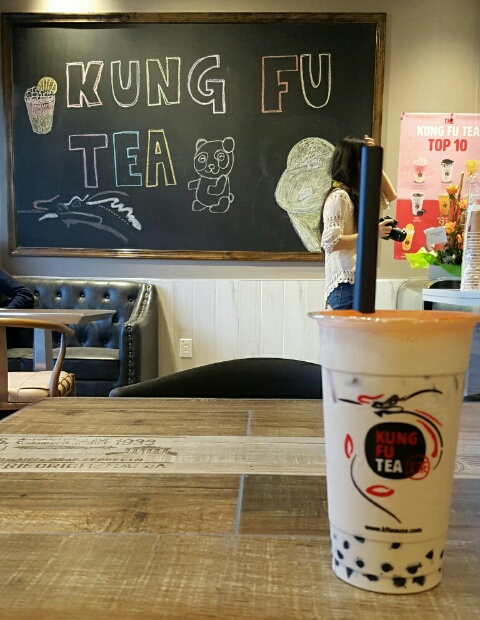 They're still training the staff, but my orders (I love the KF Milk Tea and the winter melon jasmine green tea, both with bubbles of course) came out smoothly and with no apparent fuss. They certainly look like they're offering the full menu of drinks; the menu is up on two brightly-lit TV screens and it's definitely a wall of text – lots to process, lots of options.
Plus it's just a great place to hang out. Like their Rockville location, there are chairs and tables where you can sit and socialize, and games you can borrow (I've seen people playing Jenga and Connect Four). Unfortunately, it's a pretty small place, so – like the Rockville location – I can see it getting crowded pretty quickly.
I'll still go, though. Often. Yay for real bubble tea!