Last week on the CSA front: spinach, romaine lettuce, beets, cucumbers, yellow squash, mushrooms, blueberries, eggs, and bread (Great Harvest challah). It was also a "bonus" fourth week, so we got cheese; I picked Muenster (my favorite sandwich cheese). We were supposed to get spring onions as well, but I got to the pickup site late, and they'd run out; I got an extra box of blueberries instead.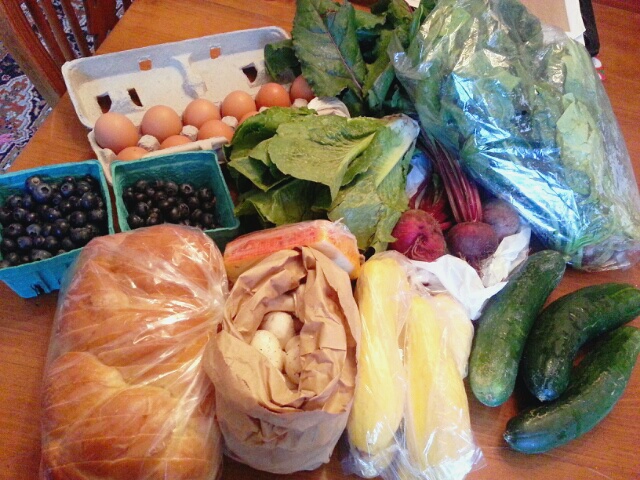 See how the blueberry level is lower in one of the boxes? The kid got to them first. I don't blame him; they were ripe and perfect and very sweet. I may have tasted a couple myself.
I'm pretty proud of how we managed to use up most of the pickup already:
Spinach, mushrooms, some eggs: cooked into (another) frittata
Beet greens: sauteed and mixed into a pasta bake with penne, sausage, cheeses, and tomato sauce
Yellow squash: sliced and grilled
Blueberries: eaten. Really, they're just gone. I pondered making cobbler, but I turned around and there were only a handful left, so we just ate them all. I don't think we even got around to washing them.
Still outstanding: beets and cucumbers. I plan to refrigerator-pickle the cucumbers tonight according to my mom's recipe. The beets were roasted in a foil packet on the grill yesterday, so now they can be peeled, sliced, and served up in basically any way. We picked up some soft sheep's cheese from the Ellicott City Saturday market that I think would go with them beautifully.
We also took advantage of the beautiful weather this weekend to stop by Larriland farm for some summer berry picking.
The red raspberries were abundant and beautiful. We sent the kid and his grandparents off to the blueberry bushes, where he stuffed himself, while we harvested two generous flats of raspberries. We picked some blueberries, too, but by that point we were starting to get tired and overheated, so there might not be enough for jam; I think I'll just freeze whatever we don't eat.
Anyway, I've bookmarked a recipe for a simple raspberry jam. I'll let you know how it goes. I canned my first strawberry jam last week (also from harvested Larriland berries), and it was divine, so I'm pretty excited about canning at the moment. Now we just need space to store all these preserves.