These past couple weeks flew by for me, as we were traveling a lot. Fortunately our kid was very well-behaved in airplanes and slept almost the entire time we were in the air. As for me, I was less than thrilled with the culinary delights available at Newark airport: overpriced sandwiches and sad-looking shrinkwrapped fruit were my only alternatives to chips and candy. Unfortunately, it's hard to sneak a decent meal past the TSA (no liquids over 3oz) or the border police (no fruits or vegetables). I'm so relieved to be back home.
Week 6 of the CSA brought us green leaf lettuce, apples, cucumbers, beets, carrots, grapefruit, kale, eggplant, bread (Great Harvest White) and eggs: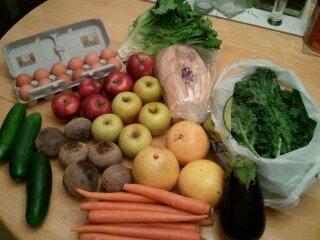 The good thing about cold storage items (the apples, beets, and carrots) is that they stayed perfectly fresh in the refrigerator while we were out of town. The bread, eggs, eggplant, cucumbers, and kale also held up fairly well in our absence. The lettuce was the only unfortunate casualty.
Week 7 of the CSA: green beans, spinach, green leaf lettuce, mushrooms, oranges, Vidalia onions, red potatoes, yellow squash, bread (Great Harvest Herb de Breezy Willow) and eggs: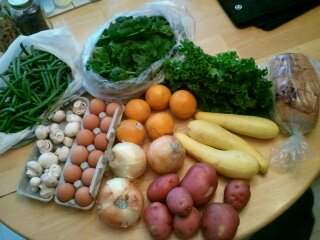 We ate the lettuce with a quick dressing of mayonnaise, anchovy, garlic, olive oil, lemon juice, and Parmesan cheese. I had been aiming in the general direction of a Caesar salad, but I must have gotten the proportions wrong; it didn't taste at all similar. Still, it turned out pretty tasty.
Another pleasant surprise was the pasta bake that we made with whole wheat rotini, ground beef, tomato sauce, sauteed mushrooms and onions, and mozzarella, feta, and cheddar cheeses; the flavors combined beautifully and masked the taste of the whole wheat pasta (which I personally find rather unpleasant). I like pasta bakes; they come together quickly and reheat easily on busy weeknights.
Finally, the yellow squash became sublime when sliced and tossed with olive oil, salt, pepper, and garlic powder, then roasted briefly at 400 degrees. I generally prefer green zucchini to yellow squash but this treatment was frankly delightful. I'll be making it again in our toaster oven as the summer goes on.