So this is how I know I'm never going to make it as a food blogger: I totally forgot to take a picture of the finished cake that I made for the the little one's third birthday.
Circumstances meant that the cake actually turned out quite nice – she was sick on the day that we'd scheduled her party, so the cakes, baked but not yet decorated, went into the freezer until the following weekend. That's how I learned that it's much easier to frost a frozen cake than a fresh one. The cake is sturdier and crumbles less, so the surface for the fondant layer turned out much smoother than it had been for my previous efforts. I made a chocolate cake with strawberry frosting, with a Hello Kitty on it, because that was what the little one requested.
Well, to be honest, that's not quite how it went. I was going to make her a Hello Kitty cake anyway, because she's really into Hello Kitty right now, and plus I already had Hello Kitty cookie cutters that I'd bought for her birthday last year, so I figured I'd get as many uses out of them as I could. She was happy with Hello Kitty, she specified the flavors, and that was that. But then, a week prior, we were going past the cake display at Costco and she pointed at one and said, "I want that cake for my birthday!"
I may not have entirely disguised my dismay. "But I was going to make you a cake with Hello Kitty on it."
"I want that one!" Determined pointing. Kids have no respect for your desires. This is something you learn very quickly as a parent.
Then I wised up and said, "You know, last year you wanted a Hello Kitty cake and I was worried that you would be upset when I cut into it. So I asked you if you would be okay if we cut it and you said, 'I want to poke her in the face with a fork!' Wasn't that silly?"
She took the bait. "Yeah! That was silly! I want to poke her in the face again!"
"So you want me to make Hello Kitty cake again?"
"Yeah!"
Oh, two years going on three, so malleable. At five years old, the older kid is already wise to these tricks and requires more straightforward negotiation.
Anyway, my objective restored, I made marshmallow fondant (I use this recipe, recommended to me by a friend whose intensity re: baking is at levels I can only admire), kneaded up some of it with a drop or two of red dye (if you want an arm workout, may I recommend kneading fondant?) to make pink, and executed Hello Kitty cake toppers and chocolate cake. (Three batches of smitten kitchen's "I want chocolate" cake, for two layers of 9″ round and one dozen cupcakes.) Also strawberry cream cheese frosting, because the kid wanted strawberries, and I like cream cheese.
The little one helped with the cake toppers. I used the cookie cutter twice – once for the head on the white fondant, and once for the bow with the pink fondant. (Now it's a multitasker! j/k) Then I picked out the features with a bit of melted chocolate on the end of a toothpick. I even let her decorate a couple of the faces. Because (and I do have to keep reminding myself of this) this is for her, not for me.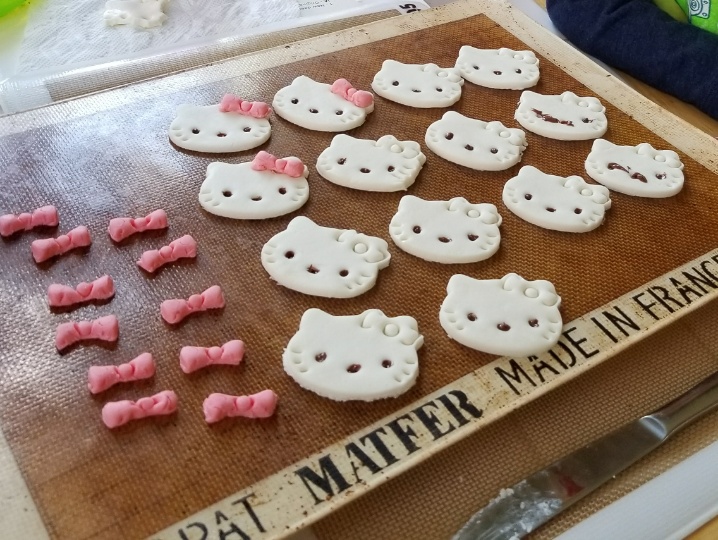 For the big cake, I drew Hello Kitty on the top with melted chocolate and a coffee stirrer. Pretty proud of executing a 3D ribbon with the pink fondant. And the kid was happy with it, which was, honestly, the whole point.
Then I didn't take any pictures. Oops! Fortunately K took pictures during the actual event, so I was able to crop this one out.
I did finally remember to take a picture, while we were cleaning up after the party.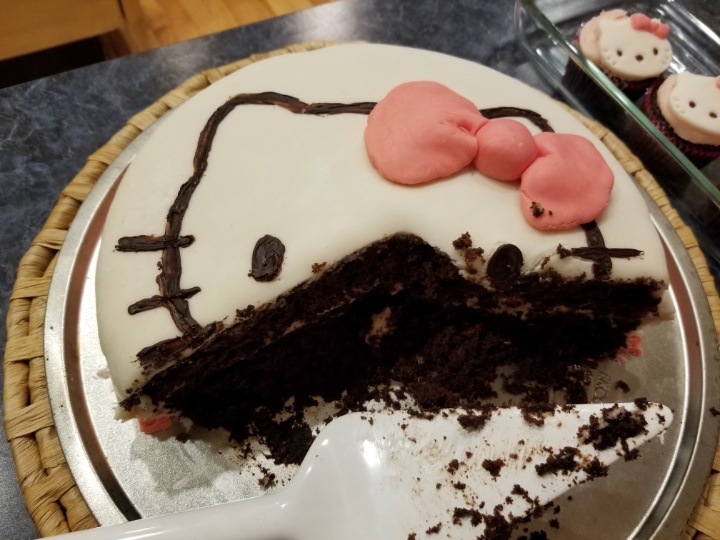 Happy birthday, little one. May I always be able to fulfill your desires… in a way that pleases both of us.