This week in the CSA: a riot of greens and reds. We have spring onions, romaine lettuce, a bunch of radishes, red chard, strawberries, apples, baby bok choy, and cucumbers. Also bread (Great Harvest challah) and Breezy Willow's own eggs.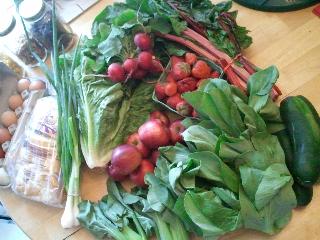 I love getting Breezy Willow's eggs because their heritage hens lay speckled and colored eggs. I can't really taste any difference, but they sure are pretty to look at.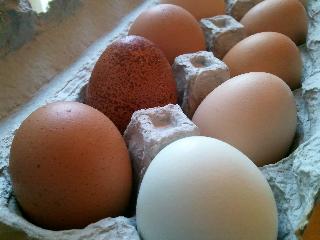 They are terrible for boiled eggs, though; since they're so fresh, they are very hard to peel.
Anyway, back to this week's pickup. I love this recipe for butter-braised radishes; it takes away the harsh bite and leaves them nutty and sweet. Halfway through the simmer I throw the radish greens in to cook as well; they retain some of the bite but get softened by the butter and the long braising time.
It's not pretty but it's incredibly good. Tastes like spring.