For the last week of the spring CSA, Breezy Willow wants to make sure that you eat your vegetables.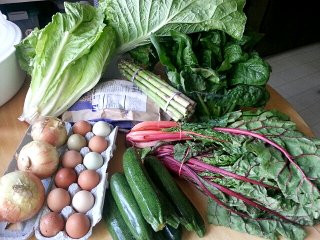 Look at all those beauties. Hiding in the back there is the largest celery cabbage I've ever seen. Leaning up against it, a head of romaine lettuce, a loaf of sourdough bread, a bunch of fresh asparagus (the ends were still moist!), and a pound of spinach. Closer to the front, there are two bunches of red chard (I traded an eggplant for extra chard), a pile of zucchini, Breezy Willow eggs, and three Vidalia onions.
I may have mentioned it before, but let me just say it again: I really love the colors on those Breezy Willow eggs.
Last weekend I buckled down and prepped or cooked almost all the vegetables in the fridge, enabling more relaxed weekday evenings. I blanched green beans, cut up Brussels sprouts with garlic to roast in the oven, and sauteed kale, chard, beet greens, and radish greens in butter. I also roasted up all the sweet potatoes that have been biding their time in the back of the cupboard. It made getting dinner on the table really easy this week. Since this is a holiday weekend coming up, I should have plenty of time to put a dent in the greenery crowding our refrigerator.
Usually the last week of the summer/fall CSA is a very sad time for me; it ends around the same time as the last of the farmer's markets, and it means I have to stock up for the winter. The end of the spring CSA, on the other hand, is a happy time. The farmer's markets are opening, I'm making dates to visit the pick-your-own places, and summer's bounty is just around the corner… and so is the summer CSA.
Oh, and strawberries. Larriland Farm's latest email blast said that they plan to open sometime next week for strawberry picking. I am so ready. Casey was saying that the strawberry harvest in North Carolina was hurt by heavy rain, and that ours is relatively late because strawberries need sun to ripen. I enjoy learning these details; it makes me feel closer to the land, and really makes me appreciate the berry harvest when it comes.
Speaking of strawberries, the last of the berries from last Sunday's market were starting to look a little wrinkly and soft, so I cut them up and tossed them lightly with some sugar and a dash of lemon juice. In a jar overnight in the refrigerator, they released even more juices, producing a dark red syrup with chunks of strawberries floating around inside.
It's tart, sweet, and brilliant on ice cream. Vanilla works perfectly well, but I'll take mine on a scoop of Breezy Willow's strawberry cheesecake ice cream.