On the table for week 9: spring mix, kale, green beans, eggplant, spring onions, bread (parmesan sourdough), crimini mushrooms (aka "baby bellas"), Brussels sprouts, eggs, and grapefruit.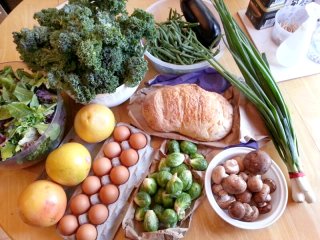 The kale was softer than usual, with pointy edges to the leaves, and I asked if it was a different breed. Casey told me that it was just because the kale was young. I'm looking forward to seeing if they cook up with a more tender texture than normal kale.
CSA cooking has been a different experience for me this year. In past years, I haven't hesitated to try intricate and interesting ways to eat the vegetables, looking up lots of recipes and trying some really time-consuming things in the kitchen. (Like that tomato corn pie that required peeling tomatoes and making from-scratch biscuit crust; it took hours.) This year it's all about what's quick. I'll probably blanch the green beans in the same water as the kale, for the extra time savings. Last night we ate half the salad greens and I roasted up the sprouts to put in our lunch containers. Quick and easy, that's my goal.
It's because the kid doesn't want to wait around for dinner. We pick him up from daycare at 6, and when he gets home, he expects to eat; the less time we spend cooking, the better. After dinner, we play around until his bathtime after 8, and by 9 he's usually in bed… and that's when I do the cooking, as quick and clean as possible so I have some time to relax before bed. Tonight after he's down, I'll probably get the beans and kale blanched, and I might even clean up the mushrooms and spring onions and get them into some kind of frittata form. Or I could stir-fry them up with the eggplant. I just need something that'll reheat easily when we come home with a hungry kid at 6pm.
Thank goodness he eats practically anything that we're eating. (Last night he even sniped some salad greens from my plate.) I prepare his food the same as ours, except I cut it in smaller pieces. Please, please let him stay an omnivore as long as possible.
Anyway, this focus on quick-cooking technique is only temporary (most stages are, with the kid), and I gotta say that I'm really looking forward to cooking with the kid once he's actually old enough to help out in the kitchen. But right now he's just learning to walk and handle a fork, so it'll be awhile yet.
At least, with all these beautiful veggies, I know I'm feeding him well.