I think I snapped sometime last week, when I dug yet another tasteless supermarket granola bar out of my work drawer. It tasted like cardboard and chemicals, a mockery of the big chunks of chocolate and round red cherries on the plastic wrapper. I grumpily ate it anyway (I was hungry, after all), but promised myself I would find a better way.
The internet (specifically, Smitten Kitchen) came to the rescue! I won't copy her recipe over because I barely changed it, but if you want to click through, I recommend doing so. The recipe takes almost zero time to come together, it's easy as anything, and you'll never eat a supermarket granola bar again. (Well, you might. But you'll resent it.)
On top of the oat base, the recipe calls for 2 to 3 cups of dried fruits and nuts. All we had in the house were Craisins and chocolate chips, so I used 1.5 cups of Craisins, 1/3 cup of chocolate chips, and 1 cup of Rice Krispies cereal to pad things out.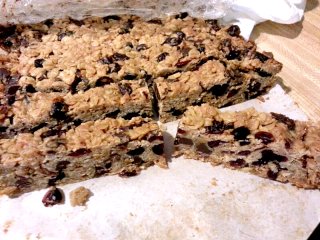 They turned out amazing. Yes, even though I messed up and forgot to add the melted butter until the very end (and, in my haste, tried to melt said butter in the microwave and it exploded, leaving greasy streaks everywhere). Anyway, they're dreamy creations, peanut buttery and oat-y and sparkling with fruits and chocolate. It's like eating an oatmeal craisin cookie in bar form.
I made them this past Sunday, and we're already practically halfway through the batch. I used a 9×9 Pyrex dish, but I think next time I'll use a 9×13 to make an even thinner granola bar (closer to supermarket size). And I'm looking forward to using dried cherries and cashews for the next batch. (Oh, Ann's House of Nuts, how I miss you.)
We also went to the farmer's market in Oakland Mills on Sunday. I went for strawberries and bread, and came away with thyme and radishes as well.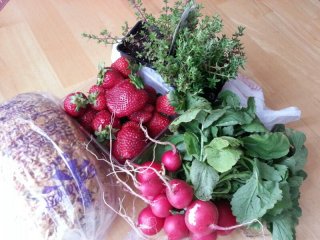 That's Popeye bread from Great Harvest (spinach in bread = no guilt about breakfast sandwiches), and both French and English thyme. I'm horrible with plants, but I think if I plant the thyme outside, Mother Nature will take better care of it than I can. And I love thyme on chicken in the summers.
The strawberries lived up to my expectations, by the way; they were wonderfully sweet, juicy, and dark red all the way through. Every year, I'm amazed anew by the taste of ripe strawberries. There's really no comparison to supermarket ones.
(And if you send your kid to daycare with strawberries to snack on, he'll smell deliciously sweet when you pick him up in the afternoon. He might even have sticky red streaks on his cheeks, perfect for kissing. It's adorable.)
Ahem. Anyway. We also made a stop at Linda's Bakery for assorted cupcakes, since we were going to see family later that day. The people manning the counters are always so patient with me while I dither around figuring out what flavors to get. (Really, I'm just trying to convince myself that I don't really need to order one of everything.)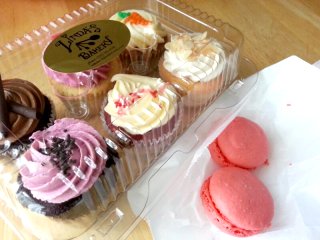 Since I hadn't tried the passionfruit macarons before, we got a couple to sample. (Verdict: very sweet, not terribly passionfruity.) And as a bonus, next time I go in there, I'll get a free cupcake! They have a frequent buyer card with which you can get a free cupcake after every 10 cupcake purchases. I've somehow miraculously managed to hang onto the same one since I started. On the other hand, I must have five or six frequent buyer cards from Great Harvest floating around the house. Someday I'll find them all and have a bread party.
Anyway, it's great to live in a place where such good food is so easy to find.