To make up for missing last week's CSA update, here's two updates in one!
Weather is a big factor in the CSA experience; see HowChow's post on the topic. Fortunately since Breezy Willow's CSA is a network of farms instead of just one, they're slightly protected if bad weather takes a toll; still, because it's all local, heavy rains or a hot summer can hurt them all. This is part of the gamble when you buy into the CSA for the season.
At Breezy Willow farm, it was so sodden and wet that they had to change up their parking situation: instead of parking in the field and walking to the shed, we drove around back and lined up three deep in front of the shed. This means no one has to walk through the muddy field, but on the other hand you don't feel like you have time to stay and chat with the Caulders and the CSA work shares, because cars are lined up and waiting in the lot. It's ok though, they're still friendly enough that pickup is a good experience.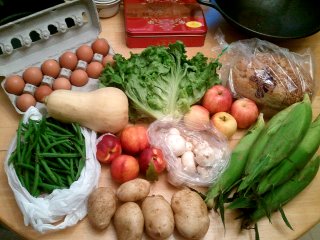 This week brought potatoes, green beans, butternut squash (you could get acorn squash instead but we got that last week, see below), a head of green leaf lettuce, 1/2 pound of mushrooms, four nectarines, four apples, six ears of corn, and the usual eggs and bread (Great Harvest basil parmesan). The basil parm is a new flavor — apparently Great Harvest switches up their bakery schedule every month or so. Casey, knowing my love for the parm sourdough, even saved me a loaf of the basil parm. It's incredibly savory; I'm planning to pick up some big ripe tomatoes at the farmers market for tomato sandwiches.
This was the pickup for last week (it was raining enough that we still couldn't pick herbs, but the ground was still dry enough that we could park on the field):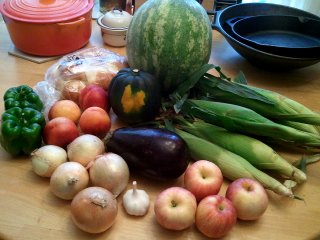 We got watermelon, acorn squash, six ears of corn, an eggplant, onions, garlic green peppers, and four each of nectarines and apples. The farm lost power from Irene, so they weren't able to offer eggs, which need to be kept cold. We did get bread though (Great Harvest challah).
…after I had put everything away, I turned around and saw the little bag of fingerling potatoes on the counter. So I took a picture of the poor things all by themselves.
I love fingerling potatoes, by the way. They roast up quickly and taste wonderful. For dinner that night, K seared some of our steak from Wagon Wheel ranch in a cast-iron pan; while the pan was still hot, we quickly sauteed some sliced onions and green peppers to go on the side. Meanwhile, the fingerlings baked up in the oven with some garlic and olive oil. It made a fantastic dinner.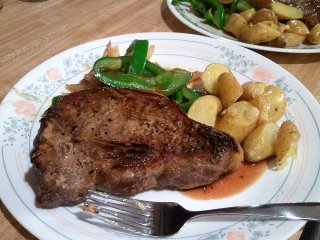 We don't eat giant steaks like that every day, but once in a while, it's quite a treat.