Last week's CSA was a beautiful fall assortment.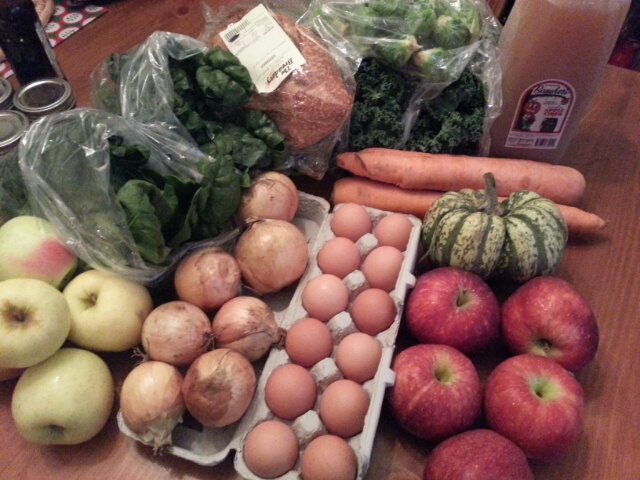 We got two shares of apples, spinach, kale, Brussels sprouts, yellow onions, carrots, carnival squash, and apple cider, as well as the usual eggs and bread (Breadery sourdough).
We ate the apples pretty much as is; the kid gets half a sliced apple in his school lunch every day, and K and I both eat an apple apiece at work daily, so apples go fast. In the next few weeks I'm probably going to go nuts on the apples at the farmer's market, too, so I can put some up as applesauce and pie fillings for the winter. Bread was sliced up and eaten that very day, and the cider disappeared quickly as well.
As for everything else…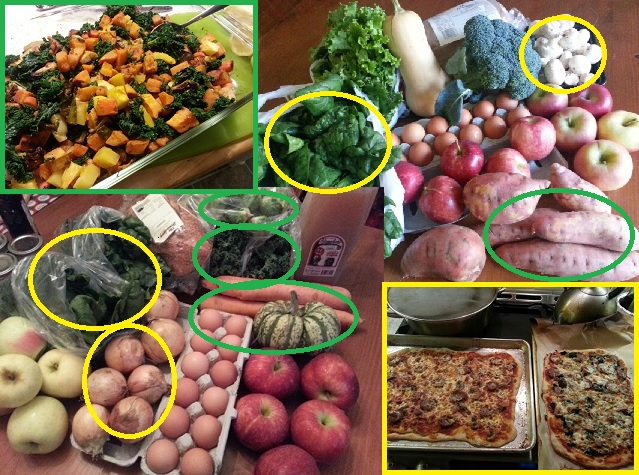 We had some items left over from last week (top right in the collage), so I mashed all the remaining ingredients into two items. I made a fall salad with roasted sweet potato, squash, Brussels sprouts, and kale; I also sautéed spinach, mushrooms, and onions for pizza. The weather right now is perfect to have the oven on, and these made great leftovers for lunches all week.
Fall Salad
: everything roasts at different times, which is actually perfect because you can cut up the next thing while the previous thing is roasting. Set the oven to 400 degrees and lightly grease two pans with olive oil (I used a 9×13 rectangular pan and a 9″ pie pan).
Carnival Squash: slice this one up first. Don't worry about peeling; peeling winter squash is not to be taken lightly and if you can avoid it, do so. Just put the slices in the greased pie pan and stick it in the oven. These need to stay in for an hour or so, depending on how thick you've cut your slices.
Brussels sprouts: rinse and cut in halves; toss in the 9×13 pan with some salt and pepper; stick in oven. These need to cook for 35-40 min.
Sweet potatoes: peel and cut in chunks; toss in the 9×13 pan with some more salt and pepper, stirring the Brussels sprouts around as you do so they don't burn. Put the pan back in the oven. Sweet potatoes need to cook 25-30 min, or until soft.
Carrots: peel and cut in chunks; toss in the 9×13 pan with the potatoes and sprouts. These need to cook 20 min.
Throw in some peeled garlic cloves while you're at it. Garlic is always nice.
While the root vegetables are cooking: strip kale from stems, tear into pieces, and rinse; blanch the kale in boiling water to soften it. Then drain it so it's not soggy.
By this point, your roasting should be done! Toss the kale with the roasted root vegetables. The squash should be done at this point too; just cut the cooked flesh from the peel and toss it with everything else. Squirt some lemon juice over all (adds a nice bright note) and drizzle it with good olive oil. Voila, fall salad. Reheats beautifully, too.
As for the pizza, I used the lazy pizza dough recipe from the Smitten Kitchen blog; I put it together Saturday night and let it rise overnight and well into Sunday. It was a bit touch-and-go as the dough was very wet after its long rise, and tore easily; still, having made it, I smacked it down on the pans and pressed it out and hoped for the best.
I had previously sliced and sauteed mushrooms and onions in olive oil, and I had also wilted down some spinach on the stovetop. K had also pan-fried some sausages and cut them into thin disks, so those went on the pizzas as well. I spread jarred tomato sauce in a thin layer over the dough, then strewed the toppings around and covered it all in shredded mozzarella cheese. They went into the oven at a ripping 550 degrees for about 15 minutes.
They turned out amazing. The crust was lovely and the vegetables took on a wonderful roasted texture. Plus, served alongside the fall salad, it made enough for several meals. Definitely doing this again.