I've been incredibly fortunate to a) have family in the beautiful city of Vancouver, Canada, and b) have the opportunity to visit them regularly.
As a kid I never found it odd that so much amazing Cantonese food was always available over there. As I grew older and learned more about the world, I definitely appreciated it. And now, as an adult, I actually have the nerve to get bored of days upon days of Cantonese feasting, and we've started to sneak out and avail ourselves of Vancouver's other culinary delights.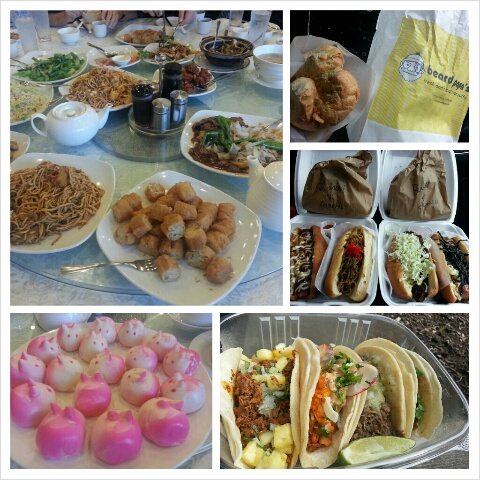 Top and bottom left: a sample of the aforementioned Cantonese feasting, a lunchtime collection of everyone's impulse orders at Old Buddies Seafood Restaurant (for dessert, a triple order of adorable steamed "Birthday Rabbit Buns"). Top right, a collection of Beard Papa cream puffs. Middle right, hot dogs and bags of fries from Japadog (and may I heartily recommend the Terimayo dog with the butter-and-shoyu fries? K preferred the shichimi-garlic fries but we sometimes disagree). And at the bottom right, a delicious selection of tacos from La Taqueria Pinche. The best ones in my opinion were the braised beef cheeks (for meat) and the refried beans (for veggie).
Man, I want to go back already.
(Fun footnote: our two-year-old was so enamored of the jellyfish entree at Old Buddies that it was almost all he ate for lunch. The next day, upon seeing the jellyfish tank at the aquarium, he exclaimed, "Yummy! I eat!" Fortunately there was enough ambient noise that he went mostly unheard.)