I'm going to pick up the final CSA share of the season tonight. It's incredibly bittersweet. Visiting the farm after the daylight savings shift means that I roll in after sunset, and the CSA building is lit up against the night like a beacon of warmth. I'll really miss doing the weekly pickup and seeing everyone.
This is what's been happening in the last few weeks. (Lots of apples; lots of roasting and braising. It's been perfect weather to have the oven on for hours on end.)
week 23: "Tango" celery, cauliflower, carrots, sweet potatoes, Brussels sprouts, onions, Ida Red and Golden Delicious apples, eggs, and bread (Great Harvest Italian herb focaccia).
In case you don't get a good idea of just how massive this bush of celery was, let me hold it up for you: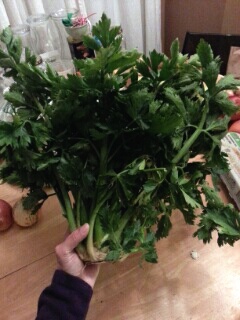 week 22: carrots, kale, eggplant, broccoli, red potatoes, eggplant, Liberty and Fuji apples, eggs, and bread (Great Harvest sourdough).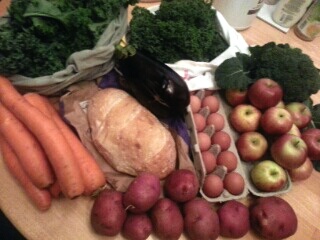 week 21 (half share): broccoli, spinach, red leaf lettuce, mushrooms, bean sprouts, onions, Fuji and some unknown kind of apples (more Ida Reds?), eggs, and bread (Breadery sourdough).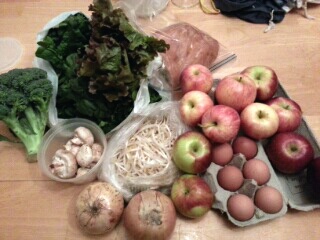 This half share is actually more along the lines of what my family of three tries to eat on a weekly basis. (Except for the apples; apparently we got extra apples this week because another CSA member was overwhelmed and giving theirs away.) We split the full share with another couple. They were awesome and did the pickup because we were busy that evening.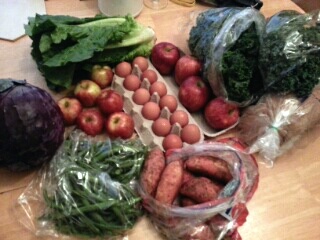 week 20: red cabbage, romaine cabbage, green beans, sweet potatoes, kale, Jonathan and Red Delicious apples, eggs, bread (I don't remember what kind), and there was a half-gallon of cider that didn't make it into the picture.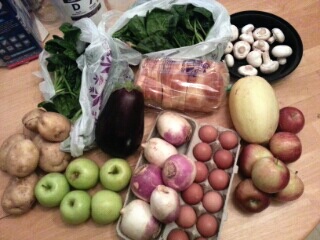 week 19: spinach, eggplant, potatoes, turnips, eggplant, mushrooms, spaghetti squash, Golden Delicious and Empire apples, eggs, and bread (Great Harvest challah).
I also love the CSA because I'm an easy victim of decision paralysis whenever I go to the grocery store. It's like writer's block. Sit me down in front of a blank page and my mind goes blank; give me any kind of writing prompt, however, and I will leap into action. The weekly CSA pickup is that prompt. Without it, I have way too many options.