One of Ottawa's loveliest features is its plethora of coffee shops. I can only drink so much coffee in a day but it makes me happy just knowing I have coffee options whenever I want them, especially in this season of snow and ice. They're like a scattered collection of little golden sanctuaries, there when you need them, only steps away, warm and reliable and comforting.
You have your choice of major chains: Tim Hortons and Starbucks are easily found, as is the Canadian chain Second Cup ("like Starbucks but Canadian," a local told me when I moved here, even though Starbucks was also in Canada), and the local-but-expanding coffee roaster Bridgehead. My morning walk also takes me past several independent coffee places, and it would be a waste of opportunity not to try as many of them as I could, right?
Thus the launching of a (hopefully) new series: Morning Coffee and Croissant. (Name of this series not set in stone; the more I look at it the more pedestrian it seems. Although I do visit these places as a pedestrian… hmm.)
My standard coffeeshop order is a mocha, or moccacino, or however the shop likes to refer to their local concoction of coffee-milk-chocolate. I'm not exactly the most discerning of coffee drinkers; once you've poured milk and chocolate into your espresso, you've masked a lot of the subtleties. But I, an unsubtle chocolate-lover, know what I like, and what I like is sweet creamy coffee with just enough chocolate bittersweet to make it taste like adult dessert. (I get them half-sweet from Starbucks though. I find the Starbucks mocha tooth-achingly sweet.)
As for the croissant, I have a soft spot for layered buttery pastry. (Which probably has something to do with the literal soft spot around my middle.) I'm delighted by croissants partially because there was a period in my life when good croissants were hard to find; I spent a lot of my early adulthood in American suburbia where the only convenient places to get croissants were Costco or chain grocery stores, and they tasted basically like layered machine-made bread. By comparison, Ottawa is a croissant paradise, and I figure every coffeeshop worth a stop should at least have a plain croissant to enjoy.
This provides a convenient segue; The French Baker is in the Byward Market area and they proudly boast that they were voted "Ottawa's best croissants" by the New York Times.* It's lovely to walk in there because you're immediately surrounded by baked goods upon entering; dessert pastries greet you as you come inside, and then when you turn left to the cashier, you're presented with a tempting display of loaves and croissant varieties. Just behind the dessert case, you can see the long counter where they work the dough.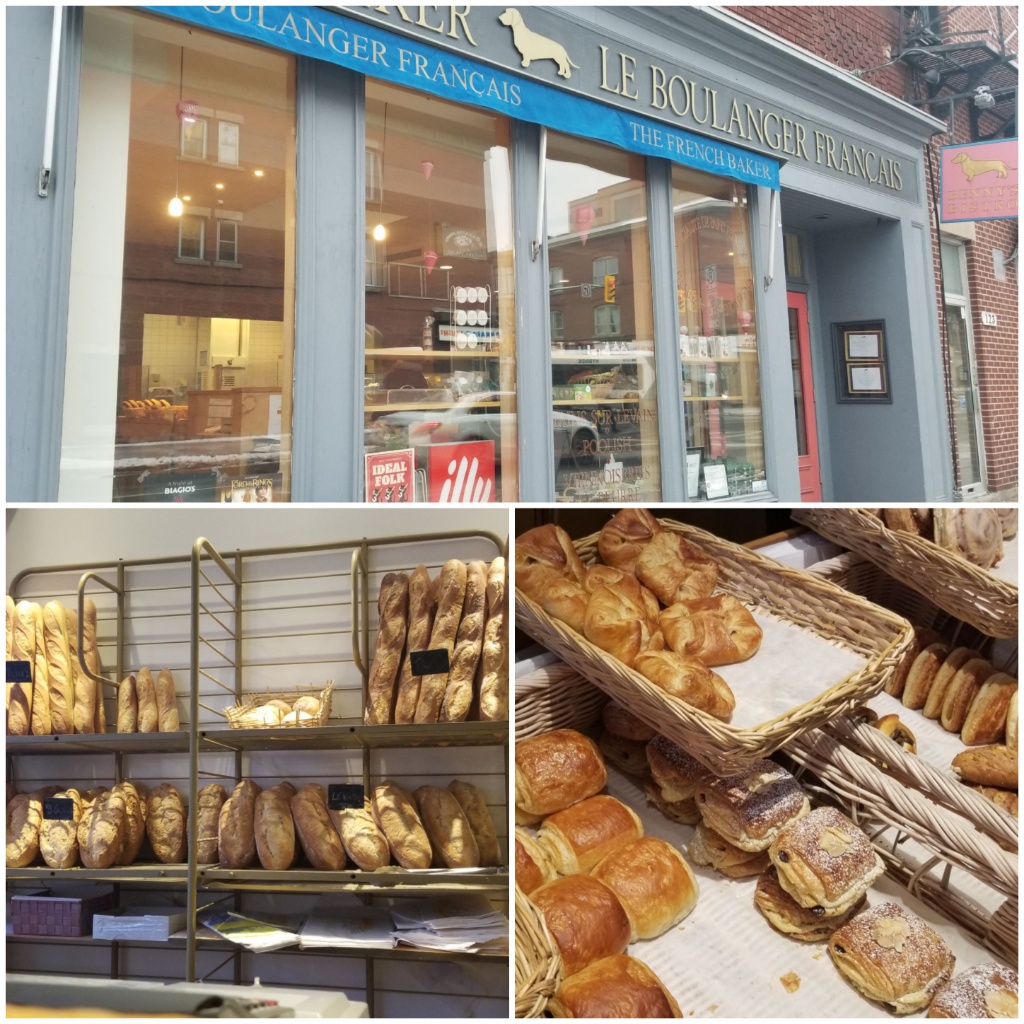 The morning I got there, large bricks of butter were being portioned into quarters and took up the entire length of the counter prep space; the scent of butter sat heavily in the air. It was a fight to order only my planned croissant and not pick up, say, a delicious-looking almond chocolatine or chausson aux pommes instead, but having just come up with this plan, I didn't want to deviate on the very first day.

Of course it turned out I had to deviate from the plan anyway! because The French Baker doesn't have mochas! so I went to my standard backup order (cappuccino).
The cappuccino was smooth and strong, characteristic of the illy brand. The croissant tended towards soft and fluff rather than flake and crunch, and was elongated rather than crescent-shaped, but you could definitely taste the layers and the butter. It was a lovely and comforting stop on a cold and icy morning.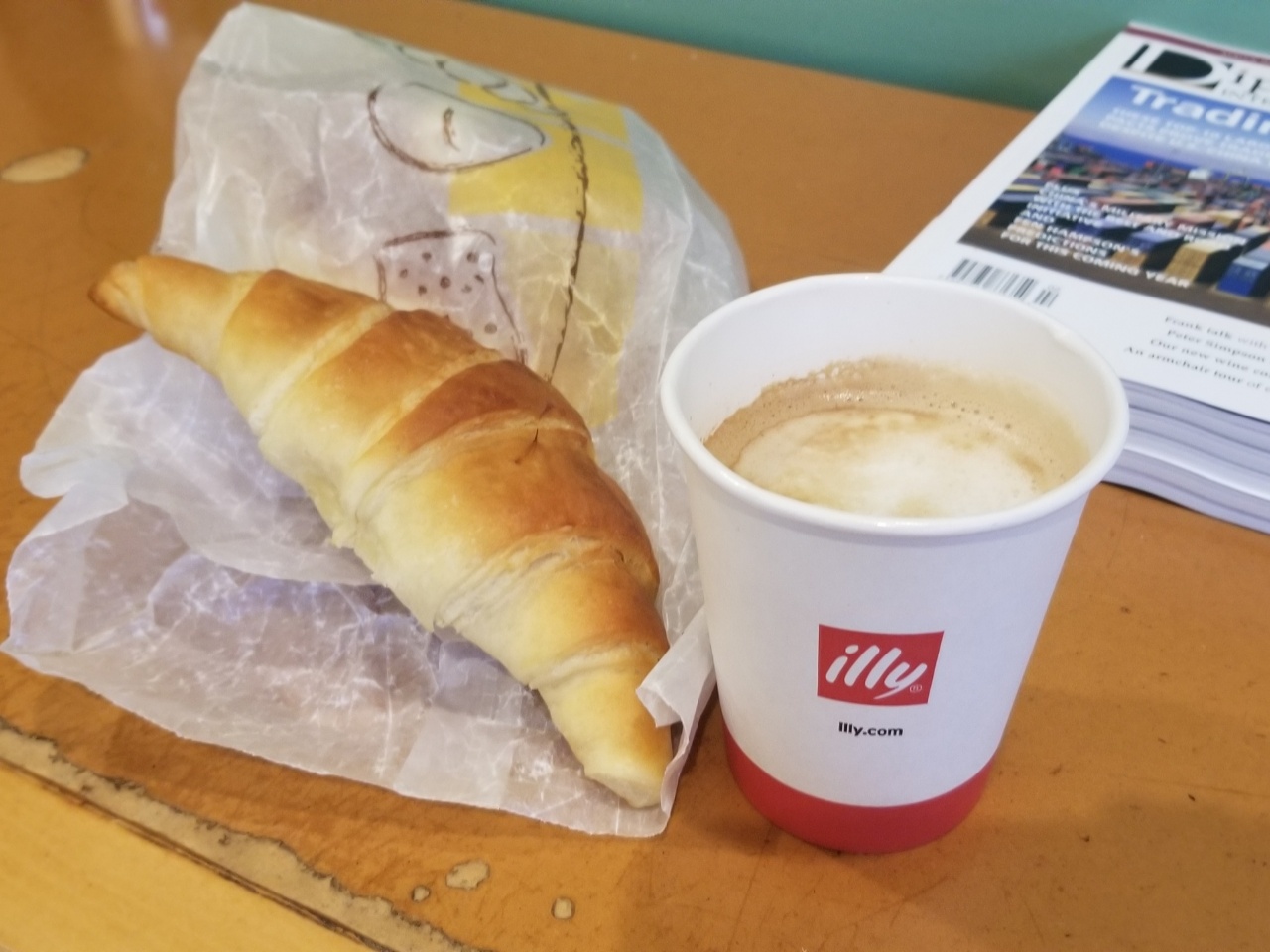 * I tried to look up the New York Times article for this, but nothing came up except a 2007 "36 Hours in Ottawa" article in which the reader was encouraged to stop by the "home to the flakiest croissants (1.50 Canadian dollars) in town." I can't speak to how flaky the croissants were in 2007 but I can definitely say that in 2020 these are far from the flakiest croissants I've had in Ottawa. I love a good flaky croissant, but the pillowy soft creation I had at the French Baker has clearly evolved from that description. Another change from 2007: the croissant cost me $2.35.
The chaussons aux pommes looked nice and flaky though. May have to try those next time.