Thanksgiving this year has been kind of odd for us. It's one of my favorite food holidays, but by the time actual Thanksgiving (read: American Thanksgiving) hit, I was feeling a little bit of Thanksgiving fatigue.
We'd celebrated Canadian Thanksgiving back in early October with our family up here in Ottawa (turkey: smoked), then Thanksgiving II in early November with our wonderful friends back in Maryland who, bless them, hadn't given us too much pushback on celebrating TG2 before TGprime (turkeys: smoked and fried). So by the time actual Thanksgiving rolled around (turkey: cut into pieces and roasted, with herbs), it was my third time within two months making mashed potatoes, cranberry sauce, and green bean casserole, and the whole thing was starting to feel a bit routine, just another turkey dinner.
On the other hand, thanks to practice, I had it down to a pretty solid process at this point. (Imagine this said in the Canadian manner, with a long "o": Proe-cess.) Thanksgiving staples are quite forgiving; I actually cooked most of the sides ahead of time and reheated on the day of, so we only needed to worry about the turkey and gravy. (And the sticky rice made in the instant pot, which turned out fantastically moist and flavorful in under an hour. Warning: instant pot raving to come in another post.)
With only a couple of dishes to worry about, it was a delightfully relaxed Thanksgiving Day. And then we had a wonderful dinner with family (again) and one of K's coworkers, and we have been eating pie for dessert for a week straight now; I can't complain.
But on to the meat (so to speak) of this post: if you bought herbs to flavor your bird, or your sides, it's likely that your post-Thanksgiving fridge contains partly-used packets of herbs. These herbs are generally destined for sadness — it really is hard to use up a whole bunch of herbs at a go, since recipes generally call for only a couple of sprigs at a time — and I have been guiltily throwing away dry, wilted brown herbs for years. But this year I was determined to change that.
I decided to modify my favorite jalapeno-cheddar scone recipe for the purpose. It's a straightforward recipe: cut off part of a stick of butter and saute minced jalapeno in it, then toss that with a bit of flour and a couple of handfuls of shredded cheese; whisk 2 cups flour and 1 tablespoon baking powder, then cut in the remainder of the butter, mix in eggs (2) and cream (1/2 cup), then mix in the buttery pepper and cheese. It'll make a dough, which you press out, cut up, and bake. Brush with egg wash if you want a glossy top.
So I washed and cut up the herbs, which was a very fragrant experience. This was actually the most time-consuming part; there were a lot of tiny leaves on those spindly stems.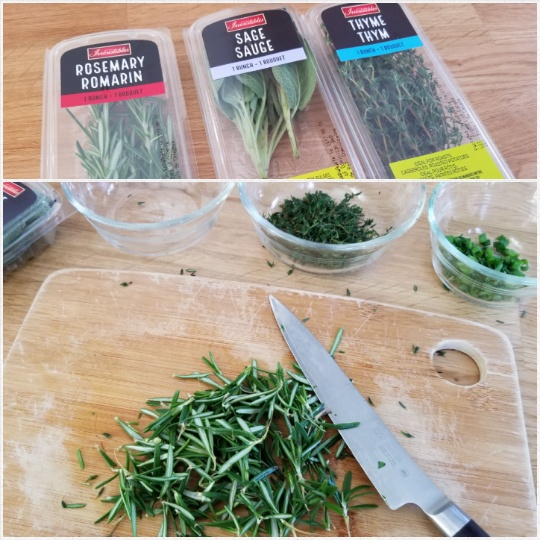 Then I got out a stick of butter. (Actually I cut off a quarter of a block of butter. Butter up here is mainly sold in solid 1-lb blocks.) I cut off a smallish chunk of it and let that brown slightly in a saucepan on the stove, then dropped in a good amount of mixed chopped herbs so that they would cook slightly and infuse the butter. (Maybe a half cup of herbs? I didn't measure. This is a very forgiving recipe.) The rest of the butter got diced up and cut into a bowl with flour and baking powder.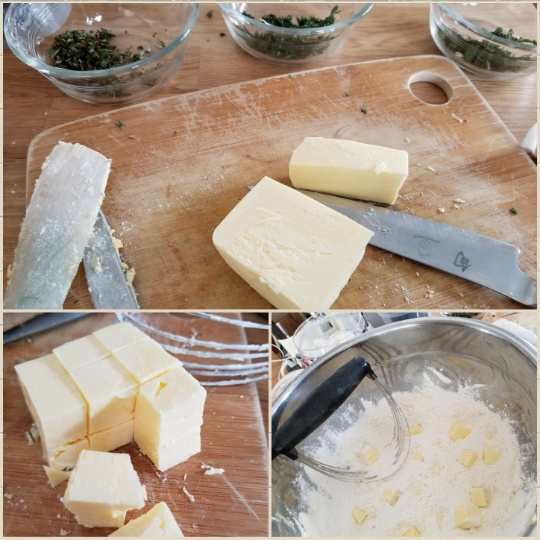 Then the liquids (eggs and cream, except I was running short on cream and had to cut it with milk, I told you this recipe was forgiving) and herbs got mixed in. When the ingredients formed a relatively cohesive dough, I dumped it out onto a floured surface and patted it into a flattish mound, then cut it up into triangles. Classic scone shape, triangles.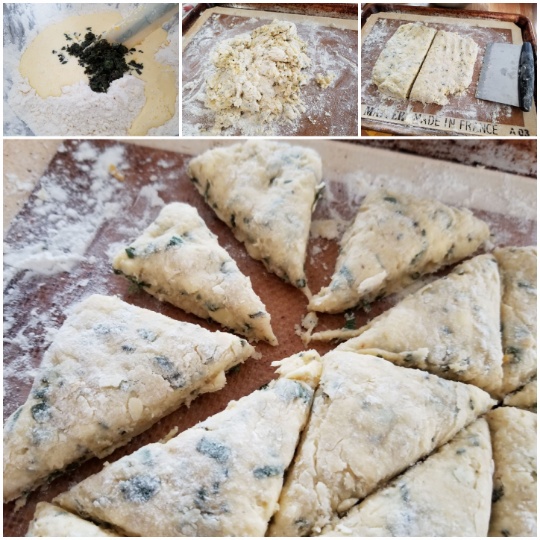 Bake in the oven at 400 degrees for about 20 minutes; they'll puff and turn golden, and the cut edges will be beautifully craggy. The egg wash is optional; all it does is make the scone look shiny. My tasters don't seem to notice a difference. The image below has egg wash on the left, no egg wash on the right.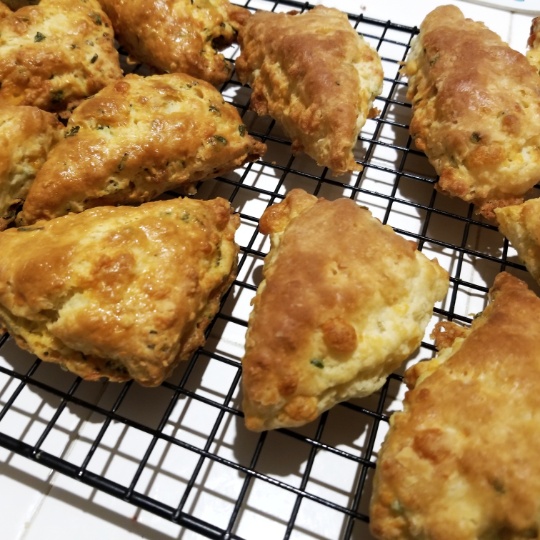 These scones were actually lighter than ones I've made in the past, since I finally realized that I've been misreading the recipe. It calls for three eggs in the ingredient list so I'd been putting three eggs in the batter, without realizing that the third egg was actually supposed to be reserved for the egg wash. This time I used two eggs as per the instructions, but next time I think I'll go back to three per batch; I liked the more solid scone that resulted. (Forgiving recipe! I can't say that enough.)
Ironically, it was this exercise of repurposing leftovers that made Thanksgiving feel real to me again, and not like I was churning out some repetitive performance. Because figuring out inventive ways to repurpose leftovers has always been a quintessential part of the Thanksgiving experience.
As a bonus, since I had enough herbs to make four batches of scones, now the freezer is stocked with flash-frozen unbaked scones, just waiting to be baked up for breakfast on some cold winter morning. Scones are always best right out of the oven.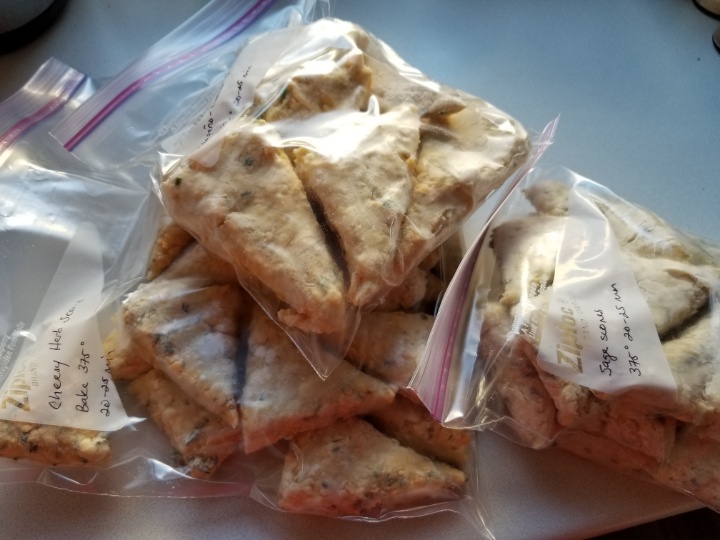 Life is good.