Some people get sent home from Easter dinner with a few extra slices of ham. Somehow, though, this year we got sent home with… an entire ham. Yep, an entire ham. For two people. I have no idea how this happened.
I cut a bunch of it up into medium dice and froze it. (K, who is wise in the ways of freezing, suggested spreading the diced ham on a sheet pan and freezing it first, then pouring the frozen cubes into freezer bags so that they could be easily separated later. Brilliant.) They'll come in handy for casseroles or whatever. Still got all these slices to deal with, though.
Anyway, it's been ham in every meal for us. For dinner last night, I made a split pea soup with plenty of ham in it, and served it up with ham and cheese scones. My standby cheese scone recipe, I figured, was robust enough to take some extra ham.
The batter had me worried at first, because the dough was incredibly moist and shaggy. It was hard to work with, but I managed to separate it into triangles. Then I pushed it into the oven and hoped for the best.
Result: total success! The scones are near-relatives to cheesy biscuits, not dry at all, with plenty of savory ham flavor in every bite. They're best right out of the oven, but toast up just fine the next morning (and, I hope, will continue to do so for several mornings to come).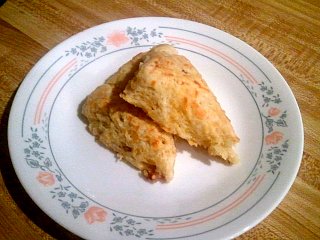 Ham and Cheese Mini Scones
(I like my scones smallish, but you can make yours as big as you want)
2 3/4 cup flour
2 tbsp sugar
2 tsp baking powder (make sure it's fresh!)
1/2 tsp table salt (actually, you could probably cut the salt completely, with all the salt from the ham and cheese)
1/4 tsp baking soda
10 tbsp unsalted butter, cold, cubed
approximately 1/2 cup ham, cut in small dice
1 cup shredded cheddar cheese
1 green onion, minced
1 cup buttermilk (I used 1 tbsp white vinegar plus enough milk to equal 1 cup)
1 tbsp water (may not be necessary; add bit by bit if it looks like more moisture is needed to incorporate the dry ingredients into the dough)
Preheat oven to 375 and line a baking sheet with parchment paper (I used a silicone baking mat).
Combine dry ingredients in large bowl. Cut in butter with a pastry blender or fork until lumps of butter are pea-sized.
Stir in ham, cheddar, and green onion. Add buttermilk and stir; dough should begin to clump. Add water if necessary. Knead gently until blended.
Turn dough out onto lightly floured work surface (or another baking mat) and pat into an 8″ square. Cut into 2″ squares and then cut squares into triangles. (Or if you want big scones, pat the dough into a big circle and cut it into wedges.) Dough will be moist. Arrange scones on baking sheet, spacing 1″ apart.
Bake until golden, or until the bottoms start darkening, about 25 minutes. (Just lift one up with a pair of tongs and peek if you're not sure.) Serve warm.