It feels odd to be typing "summer" when outside it's clearly fall: turning leaves, cooler nights, pumpkin spice lattes at Starbucks. Maybe I should have called this series the "summer/fall CSA" (as Breezy Willow does) from the very beginning. Oh well, can't switch it up now…
Last week at the CSA: spinach, green peppers, broccoli crowns, pears, potatoes (I chose sweet potatoes; you could also get white), apples, mushrooms, and beets. Also, of course, the usual eggs and bread (Great Harvest "everything" sourdough, which is basically parmesan sourdough inside and tasty savory spices outside).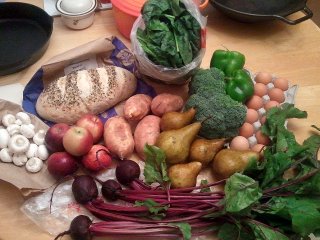 Fall is one of those times that makes me very happy to eat with the seasons. Just as colder weather comes along, so do cold-weather vegetables that just beg to get roasted in the oven. This past weekend we roasted beets and sweet potatoes; radishes with carrots, white potatoes, and thyme; made four quiches (yes, four; we miscalculated our filling) with spinach, ham, and mushrooms; and last but not least, we cooked up a lovely beefy brisket with onions in the Dutch oven. The oven was on from early afternoon until well into the evening. It made the house smell wonderful, and there was no need to turn on the heat.
I can't wait to bake up the pears and apples, too. Mmm, fall fruit desserts.
Sorry about the long hiatus; I've been traveling, so I haven't been getting the CSA share. (The couple we split the share with has been heroically eating the entire share, but for those who don't have that option, Breezy Willow donates unclaimed food to a local food bank.) Anyway, stay tuned for adventures in non-local eating…