As if to mock my whining last week, yesterday was beautiful and sunny, with just a nip of autumn cold. Perfect CSA pickup weather.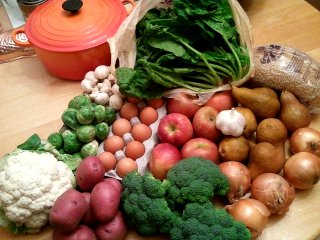 That's spinach in the bag, along with mushrooms, brussels sprouts, eggs, 6 apples, a head of garlic, 6 Bosc pears, onions, 3 broccoli crowns, red potatoes, and a head of cauliflower. For this week's bread I opted for sesame (I was too late for sourdough).
It was nice to see the animals out as I was walking back to my car. The llamas were grazing peacefully, the sheep were sitting off to one side, and the chickens were all over the place. One had even hopped up on the fence as if to emphasize the point that it was only staying in the pen because it wanted to. It could easily have made it out (which probably explains the chickens I see wandering around sometimes).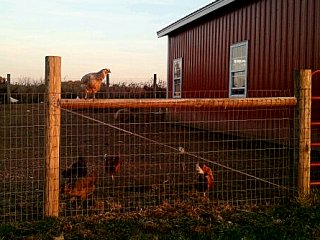 One of the working shares mentioned in passing that the Glenwood Library farmer's market on Saturdays was done for the year, so Breezy Willow would have more to sell at the farm. Panicked, I checked online and found that although many of the local markets are done, the markets at East Columbia (Thursdays) and Oakland Mills (Sundays) will be open for at least another couple of weeks. Thank goodness. I would like to stock up on local apples and squash for the winter. There are only two more weeks left in the CSA… harvest season is coming to an end.
On a related note, people who prefer to pick their own fall vegetables should note that the last day to go to Larriland Farm is this coming Sunday.