The hot weather has really been putting a crimp in my cooking. Who wants to stand in front of a stove in this weather? I hope we get a break soon… I'm very grateful to the hard workers at the farm for toiling in the heat.
Week 8 of the CSA was a "bonus item" week so we got cheese instead of eggs; I chose a Colby jack. The rest of the pickup: kale, cantaloupe, corn, tomatoes (they look pale but they flushed up pretty quickly), peaches, bok choy, eggplant, green peppers, and bread (Great Harvest parmesan sourdough).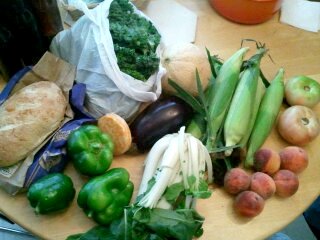 We managed to eat almost everything here, but I failed with the kale. Kale usually holds up pretty well in the fridge, but I waited too long and it was sadly slimy and brown by the time I pulled it out of the bag… two weeks later. It's always sad to throw good CSA vegetables away.
Week 9 of the CSA: garlic, tomatoes, cantaloupe, eggplant, corn, peaches, zucchini, red potatoes, cucumbers, eggs, and bread (Great Harvest challah).
I'm always glad to see cantaloupe and peaches. No cooking required!