Summer CSA week 5: green beans, spinach, broccoli, green peppers, cucumbers, zucchini, red and white potatoes, blueberries, eggs, and bread (Great Harvest challah). I also picked up a handful of thyme and sage.
Interestingly, a friend who makes her Breezy Willow pickup at a different site on the same day reported that she got cabbage instead of broccoli. I'm relieved to have been in the broccoli crowd; it's a vegetable the kid will actually eat. (He picks the beet greens off of his pasta; he would likely be completely unimpressed with cabbage.)
What we've cooked so far from the pickup: absolutely nothing! We had a long Independence Day weekend but we ended up just having cookouts and going to other peoples' houses. We have a lot of grilled meats left over though so my plan is to just cook all the CSA items up separately (well, definitely the beans, spinach, zucchini, and broccoli) so that we have it available for sides for the meats. The cucumbers will probably get pickled, and the peppers and potatoes will be frozen for later (thanks to the Unmanly Chef, I know how to freeze root vegetables! My world will never be the same).
As for the blueberries, what we didn't eat right away has been portioned off for the kid to take to daycare in his lunch. I'm sure he'll be delighted.
Although I didn't make much of a dent in the CSA pickup this weekend, I did manage to get in the kitchen to make some cupcakes. It was K's birthday weekend, and he loves carrot cake and coconut flavors; I poked around the internet and came up with this combination:
Take 5 Carrot Cupcakes courtesy Food and Wine
Candied carrot cupcake toppers from Food Network
…and a cream cheese frosting, fairly standard: 1/2 block of cream cheese creamed with 1/2 stick of butter, then mixed with 2 cups powdered sugar and a dash of vanilla until smooth.
Honestly the most annoying part was grating the carrots; we grated one and a half carrots by hand until I finally figured out where we'd stashed the grating disk for the food processor. Man, I love technology. Once we had the food processor fired up, I think it took less time to grate all of the remaining carrots and wash the resulting dishes than it would have to grate the rest of the carrots by hand.
I also toasted coconut flakes in the last 5 minutes of cooking, to have coconut to sprinkle over the top. I set up my decorating station so that any mess I made would be contained on top of a baking mat. Those things are so easy to clean.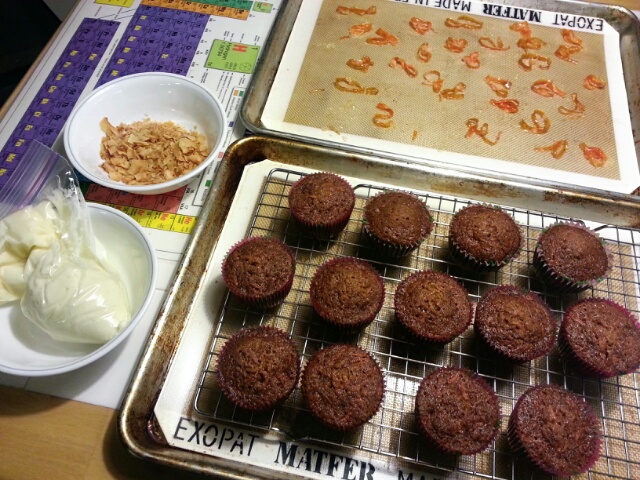 That was when I found out that a plain old cupcake, no matter how badly it's frosted, will look amazing when you have candied carrot strips and bits of coconut to sprinkle over the top.
They were phenomenal, by the way. The cupcake recipe makes an almost magically moist and airy cake, and the rich cream cheese frosting, punctuated by toasted coconut and crunchy candied carrot, is a perfect accompaniment.
And K liked it, which is really all that matters. Happy birthday, K!