Week 9 of the CSA: red potatoes, Vidalia onions, apples (Fuji, definitely looking a little past their prime as we near the end of cold season storage), spinach, cucumbers, romaine lettuce, mushrooms, asparagus, eggs, and bread (Breadery sourdough).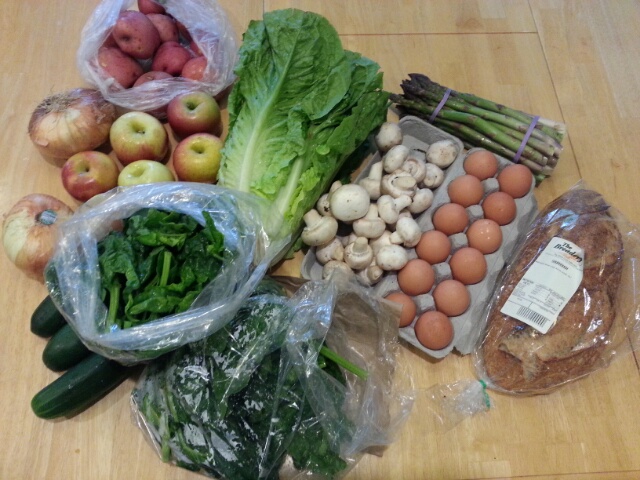 Progress report: So far we've already eaten the mushrooms (sauteed in butter, served alongside steak), asparagus (seasoned and broiled, served alongside stir-fried beef and eggplant), spinach (wilted, seasoned, and served as a side, with some pureed for the Little Princess), and cucumbers (refrigerator-pickled).
The romaine lettuce is going to get brushed with a vinagrette and thrown on the grill. I sliced up onions last night after the kids went to bed, and they (the onions, not the kids) are going to get sauteed up with some sliced peppers tonight (busy mom tip: prep as much as possible the night before). Potatoes will be quartered, folded into a foil packet with some oil and herbs, and left on the grill to roast in the carryover heat; ditto the beets from last week. So happy that grilling season is back again!
Our patio garden is also coming back to life with some thyme, basil and habanero peppers (from the Thursday farmer's market at East Columbia library) as well as parsley, rosemary, poblano, and ghost peppers (from the Sunday market at Oakland Mills). Looking forward to adding some tomato plants too, and probably more peppers. Someday we'll graduate to a proper plot of land in our backyard, but for now, the patio container garden is about all I can handle.
The guy at the TLV Tree Farm stand said that his strawberries were looking good, and would be available in a couple more weeks. I'm really looking forward to taking the Little Prince berry picking again this year.